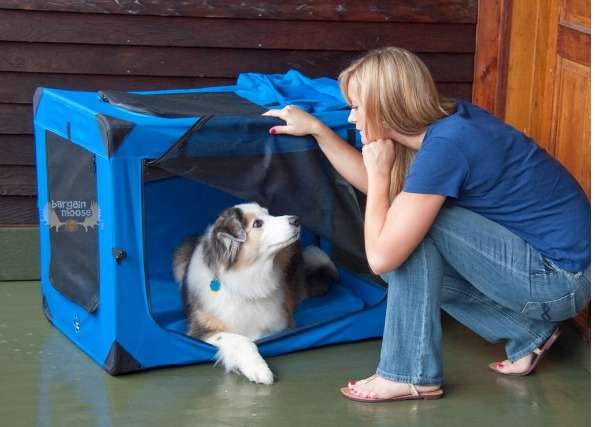 Need to get your dog or cat somewhere and don't have a carrier? Check out this deal at Amazon on the Pet Gear I-Go2 plus traveler rolling backpack carrier for cats and dogs, now only $75.99, was $108.03. I price compared this carrier to other Canadian retailers and could only find it at any other Canadian sources. But, at the U.S. online retailers like Petsmart it was over $120 and it sold for $90 at Amazon.com, so this is definitely a great deal.
Sort of like a little, breathable suitcase for your pet, it has a telescoping handle and wheels so you can roll it along to your destination. You can also use it as a backpack, tote or car seat. It has a hard shell on the outside and a removable plush pad on the inside. It is ideal for pets up to 25 pounds.
Pet Gear also has other items on sale right now on Amazon, for larger dogs too. This portable soft crateis great for dogs and cats up to 70lbs. I really hope there is not a domestic cat that is 70lbs! It was $159.49, now $110.17.
If your up to 60lb animal doesn't like to walk, because you know, they are too posh, push them around in this AT3 Generation 2 all terrain pet strollerin blue sky. Was $257.49, now $192.39.
When you spend $25, Amazon ships your items to you for free.
(Expiry: Unknown)