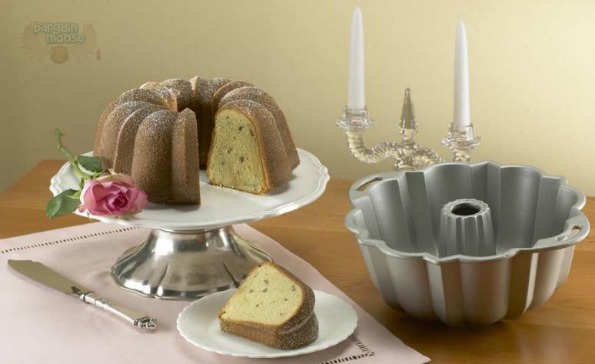 Good afternoon, bakers! Amazon.ca has discounted the Nordicware Anniversary Bundt Pan from $47.50 down to $25.62. As the bundt pan is over $25 (just!), your order also qualifies for free shipping.
Bundt pans are notorious pans for baking. You may have never used one before, but you have most likely indulged in a cake made in a budt pan. Most coffee cakes and other cakes made for eating with beverages received their shape from a bundt pan.
The 60th anniversary bundt pan by Nordicware is special. It features a special heat reflective exterior for uniform browning so your cakes look better (and taste better). This bundt pan has a narrow base for tall cakes and an extra-large centre tube. The side handles are my favourite feature by far. My parents own two bundt pans and they are always so darn tricky to take out of the oven and then remove the cake. With sloped sides, your grip is just not as good as on a regular pan. However, with handles this step becomes a breeze.
The bundt pan has a 10 to 12 cup capacity so you can make all your favourite recipes in your new pan.
Now, I price compared this exact bundt pan with other retailers. Here is what the pan retails for elsewhere:
$39.99 @ Kitchen Niche Canada
$44.99 @ Home Depot Canada
$36.99 @ Ben Bath & Beyond
$51.71 @ Chef's Catalogue Canada
$36 US @ Williams Sonoma
All these retailers also charge for shipping so you would spend an extra bit of money there ($10+). Amazon Canada most certainly has the best deal on this Nordic ware bundt pan. The reviews for this pan are extraordinarily positive on both Amazon.ca and Amazon.com:
This product far exceeded my expectations! I am thrilled with this product-produces a perfectly formed cake every time. Great workmanship, excellent product!!
and...
I have bought many bundt pans...all have been donated to the church garage sale. This pan will be passed down to my grandkids...because I will definitely be giving one each to my kids.
I hope her grandkids are bakers or that will be a waste of a good pan! I have been meaning to buy myself one of these for ages. I love baking and often want to make cakes that require this sort of pan. At this price, you cannot go wrong!
(Expiry: Unknown)