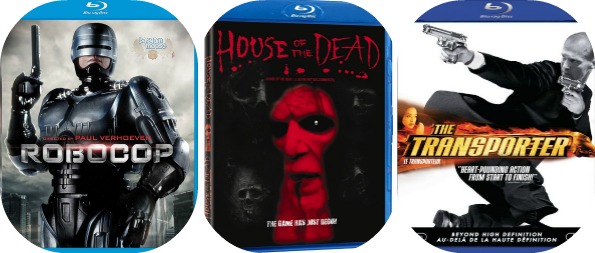 While shopping for new movies, I ran across a selection of Blu Ray movies for just $5 or less. You seriously cannot get a better deal on a Blu Ray movie unless someone gives one to you, so I thought I would share this awesome little find with my Moosers!
You can buy fourteen movies on Blu Ray for $5 apiece. I did a list like this back in May, so I thought I would point out the new additions to the section instead of going back over the ones that have been there for a while.  Without further ado, here they are:
As you can see, there is a nice new crop of $5 Blu Ray movies up for grabs along with seven others previously mentioned that are still available.
Your best savings is on the new Robocop, which is a cult classic movie about a dystopian society. It foretold the demise of Detroit (haha!). It is also quite famous for its commercials. I have never seen this movie, but upon asking my husband if Robocop was worth $5, he said it certainly was and probably was worth even more.
I recommend The Transporter as it is a fantastic action based movie and my father quite enjoys it. I love this reviewer's comment:
So much action, in fact, that the story doesn't matter. It plays like a young man's fantasy - fast cars, things that blow up, and a pretty girl to decorate the scene. The English actor, Jason Statham, is cast as the cooler than cool hero.
I would be remiss if I did not mention House of the Dead right before Halloween. It is probably the worst horror movie you will ever watch judging by the reviews on Amazon. However, if you are a fan of the horror genre then you will probably watch it anyway and cringe all the way at the bad acting and the plot that makes absolutely no sense.
Receive free shipping on orders of $25 or more.
(Expiry: Unknown)