Amazon Canada: Mattel Bubble Mower Save 50%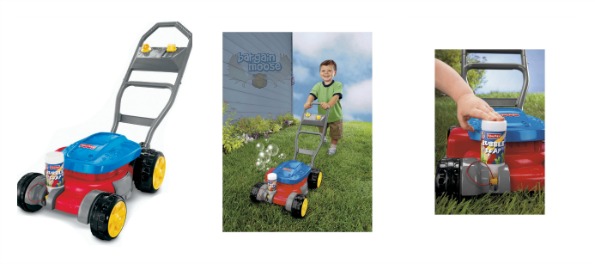 There is a deal at Amazon Canada that I know both my boys will be excited about.  Save 50% on the price of the Mattel Bubble Mower for a limited time only.
This Mower was $48 and is now just $24. It is a very popular summertime toy because a lot of kids like to mimic their mom or dad mowing the lawn.  It blows bubbles as your child moves it like a mower.  I had one as a kid (not as fancy of course) and I played with it both inside and outside.
This new version has a fun "electric start" key and lever to "control your speed". When they want more bubbles to blow out, they just push down on the bottle again. It gets an overall rating of 4.5 stars out of 5 stars and this is from a total of 479 reviews.  Basically, it is a good toy for fun, durability and educational value.
If you spend just $1 more, you will be able to get free shipping on this item saving you even more money.
(Expiry: 15th September 2013)