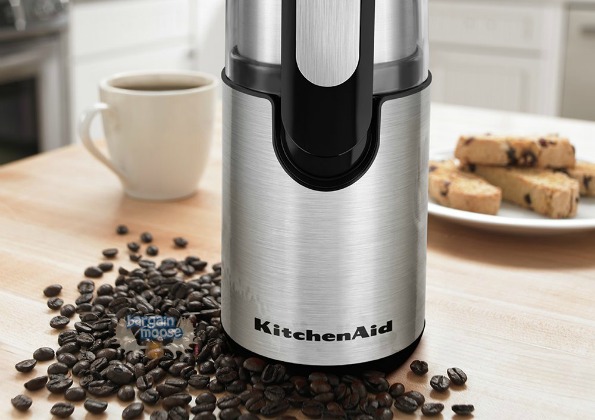 Tired of spending all your money at Starbucks or Tim Hortons for fresh coffee? Why not grind your beans at home and keep that money in your pocket, all while enjoying coffee as fresh as you can get it? Amazon has the KitchenAid coffee grinder on for only $34.99, with a regular price of $69.99.
While I don't drink coffee, I can spot a hot deal when I see one. If you are in the market for a coffee grinder, or are even starting your Christmas shopping early and think this would make a fantastic gift, you'll love this deal.
There isn't much to say about this coffee grinder except that it is onyx black and brushed stainless steel with a powerful blade for grinding those beans right down to finely ground. The bowl is also dishwasher safe, which is always nice when buying a new small appliance as not one of us needs more dishes to wash.
What I can also say about this coffee grinder is that there are 18 revies, with the majority being good or great. One that I loved is:
I don't grind coffee beans. I grind nuts, seeds, cocao nibs, spices and grains. In many cases it out performs my black and decker food processor. I have been using it daily for a variety of foods. I especially like using it to grind oats to replace white flour and chopping nuts. It does everything I need safely and I feel like I'm in control of the texture I desire. It's so easy to clean. I can't imagine my kitchen without it.
What I loved about this review is that it made me want to buy this machine! Like I said, I don't drink coffee, but I would love to have freshly ground spices in my home as I'm such a foodie and think spices can really make your dish.
The reviewers who gave it a poor rating stated that it is loud, which doesn't surprise me considering you are grinding beans. I don't know how that can be quiet.
As for price comparisons, I checked Hudson's Bay, where it is on sale for $44.99 and Shop.ca where it is on sale for $49.99.
As always, get free shipping on orders over $25 from Amazon, so this one will get to you without any extra charges.
(expiry: unknown)