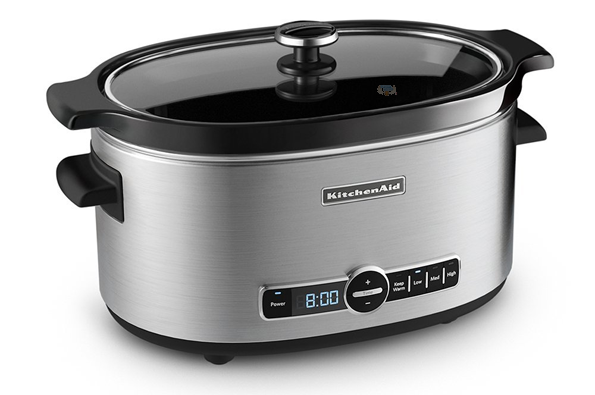 Good morning, my fellow Bargainmoosers! The march to Black Friday continues on Amazon! Today's special one-day countdown to Black Friday deal is for a Kitchenaid 6-Quart Stainless Steel Slow Cooker, and this bad boy normally costs $149.99! However, today's deal slashes the price drastically, and you can now purchase this high quality stainless steel slow cooker for just $79.99! What's great about this deal is that you'll also qualify for free shipping! Now that's a nice bonus!
This Kitchenaid 6-Quart Stainless Steel Slow Cooker looks sleek, has a nice 6-quart capacity, and can fit right in to your kitchen setup! This stainless steel slow cooker has 4 temperature settings (low, medium, high, keep warm), a 24 hour programmability feature, an easy-to-read display, and a dishwasher-safe removable ceramic insert. With this feature, you could easily keep your slow cooker clean!
Now that we're nearing the end of November, it's time to start preparing for the holiday season. When your family congregates in your dining room for a nice feast, you can surprise them with some extra special food that they will especially love, and introduce some classics like pulled pork with some help from your slow cooker!
I'm seriously considering the purchase of this Kitchenaid 6-Quart Stainless Steel Slow Cooker, since I don't currently have one. After all, this is a great deal for a 6-quart slow cooker! If you wanted to buy this particular stainless steel slow cooker from the Kitchenaid website today, it would cost you $149.99, and it's $129.99 at Sears. I've included a brief review of this slow cooker from a satisfied Amazon customer below:
Good quality product, easy to clean, has a timer which is good and after it has finished cooking it automatically goes to "keep warm." Highly recommend this item.
You could check out some of the other Black Friday deals for Amazon by clicking here, or you could also see our Black Friday dashboard by clicking here. I hope you enjoy your Tuesday, Bargainmoosers!
(Expiry: 18th November 2014)