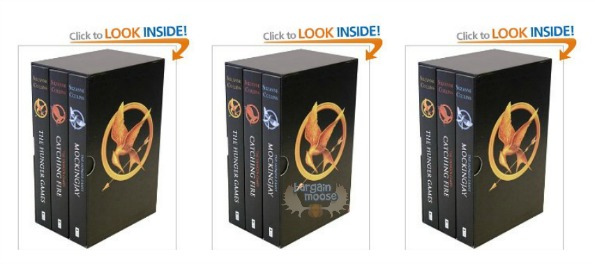 If you are one of the many people that fell in love with the Hunger Games movies but still haven't read the books, you are in luck.  You can get the entire Hunger Games Trilogy for 37% off the regular price right now over at Amazon Canada.
The Hunger Games trilogy was $40 and is now just $25.08.  That is 37% off the regular price which is a pretty great deal for something so popular right now.
This trilogy includes: The Hunger Games, Catching Fire and Mockingjay.  At the low price of $25.08, it works out to just about $8 a book and you also get the box set to hold them all. There are a lot of the set left but I suspect at this price, they may go pretty quick.
Just to make sure this was the best deal out there I did some price comparison. I found it at Chapters Indigo Canadaon sale for $30, I also found it at Walmart Canada for $41.98 and they were already out of stock at that price.
I have to confess, I have watched both the first and the second movie but I have yet to actually read the series.  My goal is to read the series before the next movie comes out.
This Hunger Games trilogy will get free shipping which is an added bonus.
(Expiry: Unknown 2014)