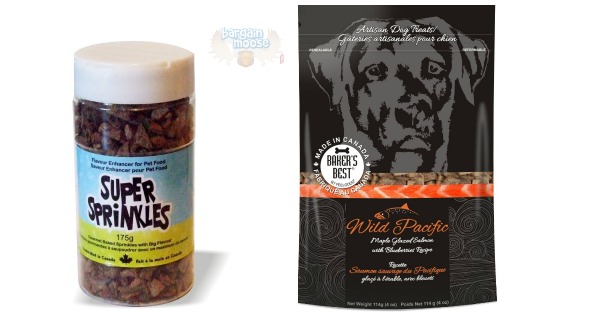 Receive for free FeelGood Super Sprinkles with the purchase of Baker's Best salmon and blueberry pet treats at Amazon Canada.
The FeelGood Super Sprinkles 175gm Jaris worth $5.15 and comes free when you purchase the Baker's Best by Feelgood Wild Pacific Salmon and Blueberries Recipe 114gm Stand Up Pouch for $5.99.
Both of these treats are for dogs. The super sprinkles are smaller treats that work as flavour enhancers or are great training treats. They also are quite nice as regular treats for small dogs.
This is a great way to load up on treats for your dogs as the freebie adds great value to your purchase. You can multiply this offer as many times as you like. I loaded five Super Sprinkles and five Baker's Best Treats into my cart and when I went to the 'review my order' page the discount came off:
Items (10): CDN$ 55.70
Shipping & Handling: CDN$ 0.00
Promotion Applied: -CDN$ 25.75
If your cart is over $25 worth make sure to choose the free super saver shipping option.
(Expiry: 14th February 2014)