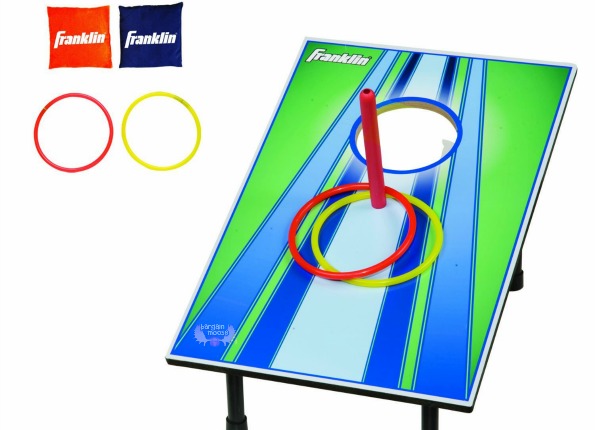 What I love about working for Bargainmoose is that I'm not just finding hot deals for our readers, but also for myself. Since I see deals every single day, all day long, I really have to pace myself and not just buy everything I see that I want. But, every now and then comes a deal that is perfect for myself or my family and I have to get it. This Franklin bean bag/ring toss game is one of those deals. Regularly $39.99, it is now on sale for $19.99 at Amazon.
Since we are campers, we need games and other outdoor activities to keep ourselves busy while we chill at our campsite. I also need some backyard activities that keep the kids busy since we aren't interested in getting them a climber this year and I've had it with sandboxes. This bean bag/ring toss game is perfect for all of those needs.
I've already sent the link to my husband, who I'm sure is getting out his credit card and purchasing this game. He has been looking for something like this for a while. Last year he made his own bean bag toss game, but the problem is that it is made from heavy wood and does not fold up, which is a problem when your space is limited on the way to your campsite. While I don't know if this one actually folds up, it is quite a bit less bulky than the one he made.
I see that Franklin is well-known for making sports equipment like this, so I'm going to trust that it is good quality. It sells in quite a few stores in Canada, but every other store sells it for the regular price of $39.99, including:
Best Buy is the only spot I saw a review and the reviewer gave it four stars:
I also received this product in great shape, the price was great, but just wish it was more sturdy, but the family loves it when we go to the cottage.
I think this item is great for any sort of summer fun time, like the cottage or a backyard party.
Shipping is free once you've spent $25, so get a few add on items and don't pay that extra fee.
(Expiry: Unknown)