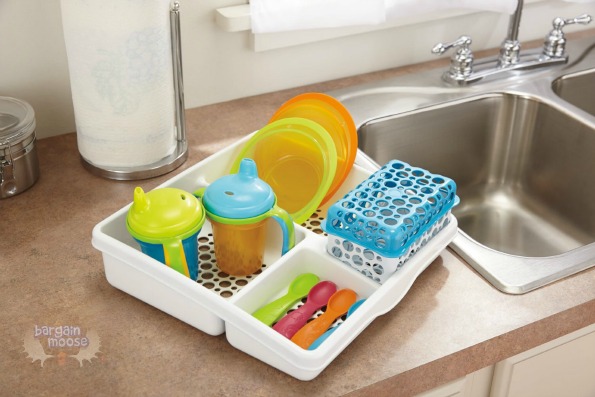 Get the Fisher Price Wash 'n Store all-in-one kit for toddlers at Amazon with 64% off, regularly $24.99, now $8.95. This set has everything you need for feeding and drinking for toddlers.
I remember the days of toddlers with my cupboards overflowing with sippy cups and their lids, which somehow never matched, so I had useless items littering my shelves. This organizer lets you keep your toddler feeding stuff organized into one spot and would make a great gift idea for someone with a new baby. It includes two sippy cups that are called "stack and store", which I assume means you can stack them when you are using them.
It also has a plate, bowl and four spoons. The reason for the four spoons is simple - your toddler will ask for the blue spoon, but then change his mind and want the orange, next thing you know he wants the red. Just give all of them to him. Some toddlers like to use to spoons at once so they can use both of their hands to eat. Trust me, I've seen it many times.
The set also includes a drying rack for washing all of these items in your sink and a dishwasher basket for storing and cleaning small parts that you don't want getting lost in your dishwasher. This could include soothers, which you'll need to wash often.
In case you are wondering, this set is also BPA free.
There are two reviews on Amazon, one gives it a five-star and says she loved it so much she bought one for her friend. Since this set is so inexpensive, it might be a fun set to give as a gift to your friends from baby group.
The only other spot I found this set was at Walmart, where it sells for $19.97. If you have Prime, you know you'll get free shipping. If you don't, you'll want to get your cart up another $16 to get that free shipping.
(Expiry: Unknown)