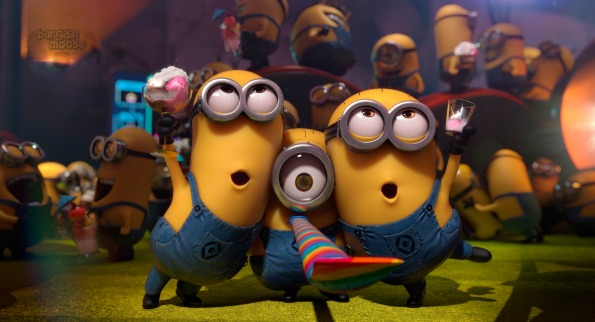 Amazon Canada has discounted the original Despicable Me (Blu-ray + DVD + Digital Copy + UltraViolet) from $30.99 down to $11.75!
This is nearly the full kit and caboodle: the version includes Blu-ray, DVD, and the digital copy. I am not sure exactly what UltraViolet is so someone can pitch in their knowledge anytime.
This is the original Despicable Me - one of the best animated films to be released in the last decade. It also launched one of the most recognizable faces to come out of recent animated movies: the minion. Seriously, who does not love the minions? Whether you prefer one-eyed or two-eyed minions, minions that float or minions that wear costumes - this movie is priceless.
If you have never watched this movie, you MUST BUY IT. I love how this movie does what few movies ever do... distorts the boundaries between good and evil with orphans, unicorns, minions, and evil plots thrown into the mix.
As one reviewer on IMDB said:
It is incredibly rare to see a single dad portrayed in such a positive light. While Gru has an admittedly "bad" vocation, there are unbelievably sweet moments between him and the three children, probably aided by the juxtaposition of tiny girls to a large, "bad" guy.
My favourite scene is when Gru is trying to break into Vector's lair to steal back the shrink ray. That is one seriously loaded fortress! The antics are somewhat childish but that is what makes them so much fun. You root for Gru even though he ends up borrowing a few orphans to unleash his nefarious plan. I now always say "light-bulb" in a Gru accent. I have Despicable Me to thank for that!
Despite the content being priceless, the movie does cost a few dollars. I price compared this exact set with other online retailers. I found the same Despicable Me combo for $19.96 @ Walmart Canada and $24.81 @ Staples Canada. The cheapest Blu-Ray Despicable Me @ Best Buy costs $22.99.
Despicable Me also did something that is very hard to do: it had a sequel nearly as good as the original. Some may argue it was slightly better too. "Lipstick Taser!" I highly recommend both movies but still consider the first my favourite.
Receive free shipping on orders of $25 or more.
(Expiry: Unknown)