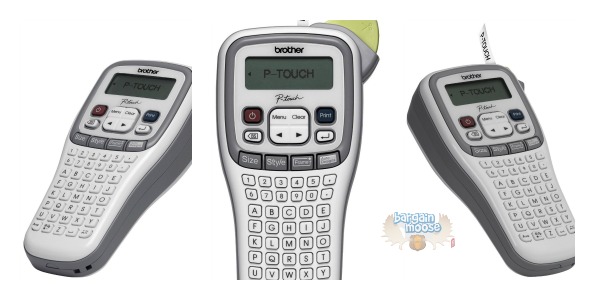 This "lightning deal" won't last. Fifty percent have already been claimed and there are nine hours left in the deal. Get the Brother Easy Handheld Label Maker for only $15.99, with a regular price of $39.99.
A label maker is a must-have in an organized household. I wouldn't say I have an organized house, but my label maker has made it easier to be organized. I actually have this exact model and paid over $30 for it at Costco, so I can vouch that this is an amazing deal.
If you don't believe me, check out the prices at Brother($39.99), Staples ($39.92), 123Ink Cartridges ($34.99) and NewEgg where it is out of stock. Need more convincing? I doubt it.
I use my label maker on a regular basis. I've labelled all of my craft drawers, the kid's cubbies in the front hall, their homework cubbies, their clothing, their water bottles, file folders and I'm not even done organizing yet. Winter is here with a wild force and I know I won't be stepping foot outside so now is the time to organize! I also plan on labelling all of the Christmas boxes as I put them back to make it so much easier next year when getting them out. Instead of just seeing the label "Christmas" I might actually know what exactly is in each box.
I also let my kids use the label maker to label their stuff, although I do it under my supervision as they'll use all the tape.
Read the reviews for the perks and downfalls of this machine, but here is one that summed it up:
Bought it for back to school did the job great does little graphics also the kids loved it
Shipping is free once you've spend $25, so you might want to get yourself some tapes or something else that would get you past this threshold and save you those annoying shipping fees on such a great deal.
(expiry: 18th November 2014)