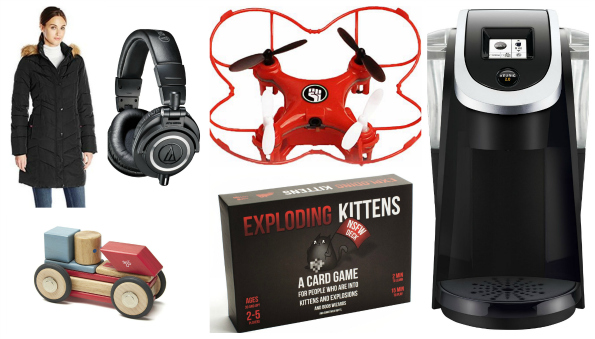 Amazon Canada's true Boxing Day deals have now started and these are ones you will not want to miss. Here is a rundown on some of the best deals - up to 75% off - in popular categories on Amazon Canada.
Electronics
I always shop for new tech on Boxing Day and I am sure a lot of Moosers do as well. Here are some of the top tech deals you can score right now:
Clothing
There are tons of good clothing deals but let us start with the Up to 75% Off Select Coats and Jackets section featuring hot designers. This  Tommy Hilfiger Women's Long Chevron Quilted Down Coat with Fur Trim Hood is on sale from $395 down to $95 and this Tommy Hilfiger Men's Classic Puffer Jacket was $285 and is now $68. That second jacket is actually 76% off.
There is also Up to 70% Off Clothing & Shoeslike this Puma Men's PE Running Ls Hz Tee on sale from $69.99 down to $21. These Hot Sox Men's Sneakers Crew are on sale from $12 down to $3.60. They make a great add-on item.
Toys & Games
Get 25% Off Exploding Kittens Game - one of the hottest new games of the year. Pay just $18.75. Drones are also on sale - lightning sales that is so you will want to pick up your choice of these three before the deal sells out:
Originally $39.99 each, they are now on sale for $22.79 each.
You can also get 40% off Disney Frozen LeapFrog LeapPad Games and score Great Deals on Tegu products - they are popular wooden block toys and building sets for kids.
Kitchen
Video Games & Consoles
 Amaz Canada's best console deal is this Xbox One 1TB Boxing Week Exclusive 6 Game Bundle on sale for $389.99. You can also find plenty of game deals like Gran Turismo 5: XL Edition - PlayStation 3 on sale from $14.99 down to $4.99 and Call of Duty Black Ops 3 - Xbox One - English from $79.99 down to $39.99 (lightning deal). You can also Save 50% on Assassin's Creed: Syndicate Gold Edition (PS4/Xbox One/PC)and many other games.
Movies & TV Shows
This is jsut a sample of the good deals on at Amazon Canada right now. Check out these sales and more on their website. As per usual, receive free shipping on orders of $25 or more.
(Expiry: varies)