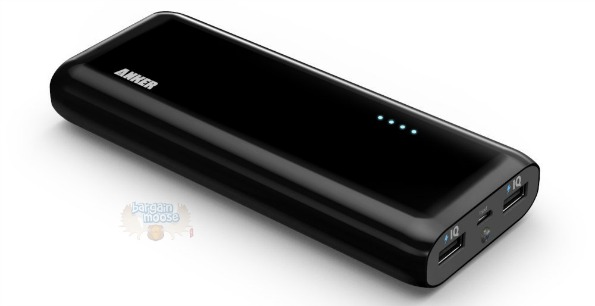 I am thrilled with this Black Friday deal! Pick up an Anker Astro E4 13000mAh Portable Power Bank Pack External Battery on sale for just $35.99 with free shipping. This battery pack originally retailed for $99.99, and is frequently seen around the $50 - $60 range.
This is the brand new revamped E4 that is slimmer, sleeker, and looks way better than before. I have the previous version, which holds a lot of charge and was a lifesaver when my iPhone 5 battery failed. This newly redesigned Anker Astro E4 looks amazing! It comes with indication lights to tell you how much charge is left, a flashlight, and two ports. One outputs 2A (for your tablet) and the other outputs 1A (for your phone).
With 13000mAh, you can charge a phone up to six times or a power-sucking iPad up to 80% capacity. Smaller tablets can get at least one full charge if not more. This device also charges almost anything. Unlike other charges that will not charge Samsung devices or Asus tablets, the Astro E4 will charge whatever you throw at it including the following fine electronics:
iPhone 6, 5S, 5C, 5, 4S
iPad Air, iPad mini
Samsung Galaxy S5, S4, S3
Note 3, 2
Google Nexus 7, 10
HTC One, One 2 (M8)
LG G3
Nexus
MOTO X
And many more devices. Whenever I am asked for advice on portable batteries, my answer is always Anker. Where else can you get such a huge back-up batter for such a great price? On top of that, they are incredibly reliable! I have had mine for nearly a year now and it runs like the day I purchased it. I have to say I love the new design; it looks so much better than the one I own. As a quick price comparison, Newegg Canada is selling the same device for $49.99 + $5.99 shipping. I fully agree with this reviewer:
This little device should be part of anyone arsenals as "must haves". It has already bailed me out once when I forgot to charge my IPhone before heading out on the boat. I just plugged the phone into the charger and had a great charge in minutes.It's very sturdy and well constructed.
If you are looking for a slightly cheaper device but with less power, this RAVPower Element 10400mAh External Battery Pack is just $29.99 for Black Friday. Both devices come with free shipping as they are over $25.