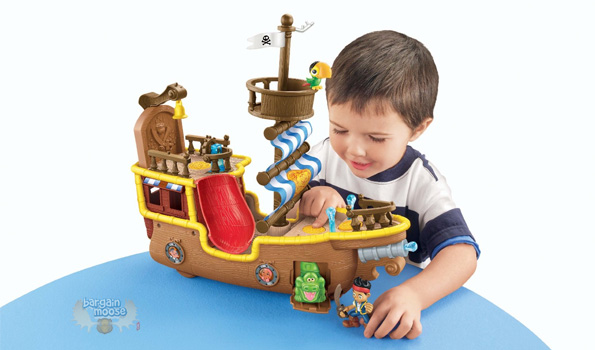 During only three days, Amazon is offering a 50% discount on select Fisher-Price toys such as Jake's Musical Pirate Ship Bucky, which is now just $27.49 instead of its regular price of $54.99.
The coolest part about it is that it features 3 push buttons, each with different functions. One activates the loaded cannon, the second makes the Tic Toc Croc explode from the side (as you can se eon the image above) and third serves to to activate the musical part of the ship such as Jake's catch phrases and the theme song.
Price comparing this musical ship, I found that Searshas it as high as $59.99, while Toys R Us is selling it for $44.97. In either case, Amazon's current price reduction is a better deal hands down.
And in case you're thinking this is just for boys, it definitely isn't as this review proves:
I buy it for my daughter's birthday, she loves pirates and is very happy with the boat, the songs and the characters are cute.
According to the reviews, this boat is also very durable, which means it could handle just about any temper tantrums or banging on the floor as the ship "sails" away!
You can also save 50% on the following Fisher-Price toys:
Since shipping is only free on orders over $25, you might need to get a filler item if you choose one of the other play sets. The deals section is always a great place to check. You could for instance get the Iron Man Mark 42 action figure for just $6 instead of its regular price of $19.99, but there are plenty more reductions to take advantage of as well.
(Expiry: 15th June 2014)