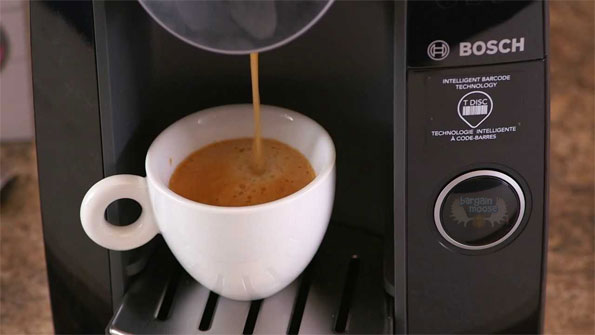 Coffee lovers, there is a fantastic deal on a coffee maker at Amazon but you better jump on it quick if you want it! The Tassimo coffee maker T47 is on sale for just $59, which is a $108.99 from its original price of $167.99 -- that's 65% off! Shipping is free as well.
Amazon's deal are such that they can end at any moment, so if you want this nifty coffee maker, then make sure to not wait to get it, especially since it's much more expensive everywhere else:
Surprisingly, it actually has a total over 40 customer reviews and a total of 4.5/5 stars. That's really quite amazing and coupled with the price drop, it definitely pushes this little coffee maker over the moon. I'm just kidding of course but if I didn't already have a Keurig, I would probably get this machine because of the many perks and the positive reviews.
Reviewers praised the Tassimo for its sleek appearance that looks great on any counter top and also for its great-tasting coffee. Ultimately, you don't need much more than that, do you? :P
Tassimo T47 is fully automatic, which means that you merely need to press one button to make your coffee. However, you do have the option to customize your drink by making it pour less or more of coffee.
It utilizes T-Discs and what's cool about those is that the Tassimo will know exactly what you're wanting to drink and will make it just right by scanning the bar-code. The Tassimo is also marketed as being lightweight, so depending on how your kitchen is designed, you could technically keep it stashed away in a cupboard and then bust it out as soon as you need it. Personally, I would definitely keep it on display and move the other small appliances out of the way if I had a lack of counter-space but that's just me!
The Tassimo T47 coffee maker also features:
2.5kg overall weight
1.39L water reservoir
noise reduction
1-touch operation
Plus with summer around the corner, it can also brew iced coffee!
(Image Credit: Canadian Tire YouTube)
(Expiry: 18th May @ 3am)