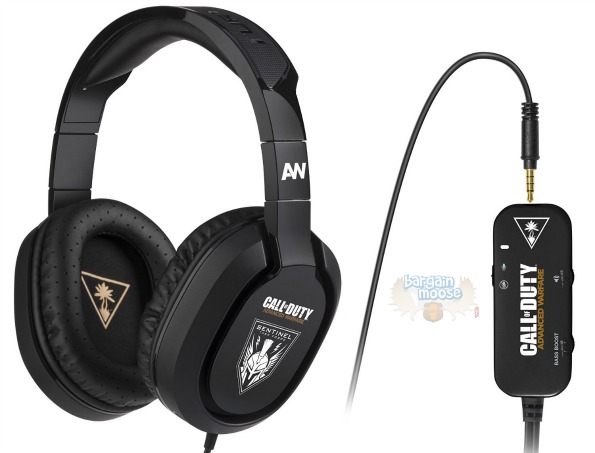 Amazon Canada has discounted the Turtle Beach COD Task Force PS4 gaming headset from $89.99 down to $38.43. As the headset costs more than $25, it will also ship for free to your home.
This headset is not readily available across Canada, but I did find it at a few other Canadian retailers. Walmart Canada sells the headset for $89.96. Newegg Canada also sells the COD Task Force headset for $89.99 plus $4.99 shipping. Neither Future Shop nor Best Buy stocks this product.
The Call of Duty Advanced Warfare Ear Force Sentinel Task Force Gaming Headset is designed for the PS4. Turtle Beach has designed a comfortable, lightweight headset with 50mm speakers. There is an in-line amplifier with Bass Boost, Master Volume, Mic Mute, and Mic Monitoring for easy communication with teammates. The mic is highly sensitive and removable. You can pop out the mic and connect it to mobile devices - including the PS Vita. Thus, the mic is multi-purpose.
On Amazon.COM, this headset scores 4.4/5 with over 40 reviews. Most people are impressed with the removable mic. Only plug it in when you need a mic and disconnect when you just need a plain headset. Here are some of the comments about this headset:
The base is strong so you can hear the distant rumble of explosions as well as the huge boom of a grenade going off right beside you. Voices are clear so you can hear in game chat and call outs while playing. TB knows how to make a headset that can play audio perfect for a Call of Duty game. Whether trying to hear footsteps in game or hearing what your teammates are talking about what person on the other team is camping where, you'll be able to hear it all clearly..
That is really cool. I have owned a Turtle Beach gaming headset before and they are really well made. The earpieces were the most comfortable I had tried. Surprisingly, they were also the only 'breathable' headphones I have ever tried. Usually you can expect a little ear sweat if you are living in a headset, but these are designed a bit differently. This pair of Turtle Beach COD Task Force PS4 headphones has a perforated design on the earpieces.
Given that this headset is nearly 60% off the going rate, I figured this was a really sweet deal.
(Expiry: Unknown)