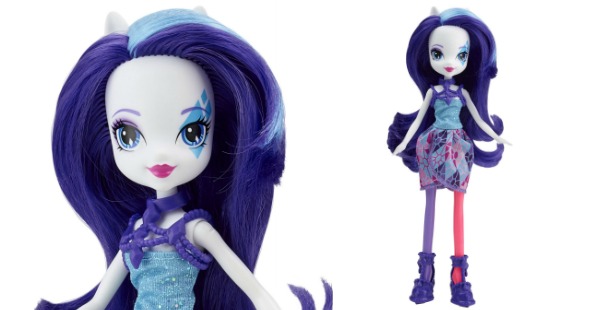 *Bump! This toy is back on sale just  in time for Christmas!*
My Little Pony is pretty big among children these days. I found this My Little Pony Equestria Girls Rainbow Rocks Rarity Doll with Fashions on sale from $24.99 down to just $10.56 at Amazon. If you have Amazon Prime, then you will receive free shipping. If not, then shipping is free on orders of $25 or more.
This doll is sold and fulfilled by Amazon Canada - not a secondary seller. The My Little Pony Rarity Doll is a fantastic price and the lowest I have found for any little girls collecting the Equestria Girls line from My Little Pony.
I conducted a little price comparison to insure you are getting the best deal. This same Rarity Doll with extra fashions included retails for $26.94 at Walmart Canada. Toys R Us has the doll and included accessories on sale from $29.99 down to $14.99. I checked out Target.com in the USA just to do a little cross-border comparison. This doll retails for $19.99 USD at Target.com.
Given my little price comparison, you really are getting a stellar deal on this doll.  Rarity comes dressed in a rock star outfit with two pairs of fancy boots. She also comes with an extra dress so you can mix and match shoes and clothes. The dress is on a dress-form where you can store the dress she is not wearing at the time. Of course, Rarity's clothing will mix and match with other My Little Pony dolls your child already has.
These toys are designed for ages three or older as there are small parts (choking hazard for very young ones). I would suggest purchasing this doll and saving it up for a birthday or for Christmas. I am sure countless little girls would be happy to find this doll under the Christmas tree this year. It is very affordable, thus Moosers of all budgets should be able to take advantage of this offer.
I recommend signing up for the Amazon prime trial for items like this that cost under $25. If you have already exhausted your Prime trial, then throw a few things into your cart to reach that $25 mark. Deals like this tend not to last long, so pick your doll up today.
(Expiry: unknown)