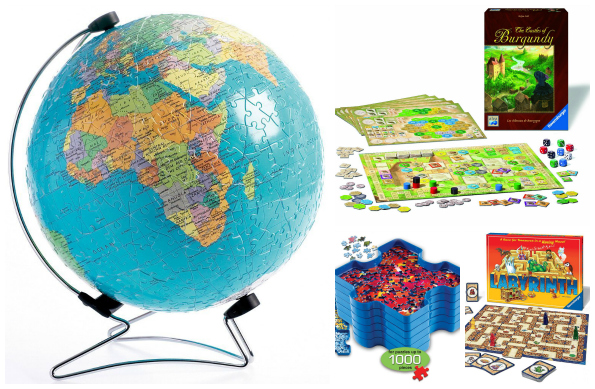 Amazon.ca has a HOT one day sale with up to 47% off Ravensburger puzzles. However, not all the sale puzzles are on this page as I found this wicked cool Ravensburger The Earth - 540 pc 3D Puzzle on sale for 50% off. Originally $54.99, this 3D puzzle of the earth is now only $27.49 with free shipping.
The Earth Puzzle is just one of those things that I would buy myself. This Earth puzzle is 540 pieces and comes with a plastic base stand and metal rotation stand for displaying. Each puzzle piece is perfectly curved to assemble earth. They fit together to form a solid, smooth ball. NO glue is required; this puzzle works just like a regular puzzle, but in 3D form.
I really enjoy puzzles and have only assembled one 3D puzzle in my life. While I build up to 1000 piece puzzles, I like 500 piece puzzles better so the Earth 3D puzzle is like a dream puzzle for me.
Now, there is a large selection of Ravensburger puzzles on sale today only. While amazon says up to 40% off, the Ravensburger The Castles of Burgundy - Family Game is 47% off. Originally $46.99, this is game is now on sale for $24.99. The Castles of Burgundy is more of a game than a puzzle, and it reminds me of Settlers of Catan.
Ravensburger Labyrinth - Family Game is another super fun puzzle like family game. It is also a best seller so get your hands on it quickly. Originally $35.99, it is now just $19.99. Move walls and open up passages to find your way through the labyrinth first!
For more traditional puzzles, try Ravensburger Night Work - Thomas & Friends(TM) - 60 pc Glow-in-the-Dark Puzzle on sale from $12.99 down to $7.99. Thomas is really popular and this glow in the dark puzzle will be fun for kids with the lights on and even with the lights off!
I have trouble keeping all my puzzle pieces organized when I am building a big puzzle. The Ravensburger Puzzle Sort & Go! - Puzzle Accessories would be an amazing way to keep my puzzles pieces sorted and off the dining room table. Originally $23.99, the puzzle sorting trays is now $15.49.
Receive free shipping on all orders of $25 or more. These puzzles make amazing Christmas gifts.
(Expiry: 13th November 2015 - excluding the Earth puzzle)