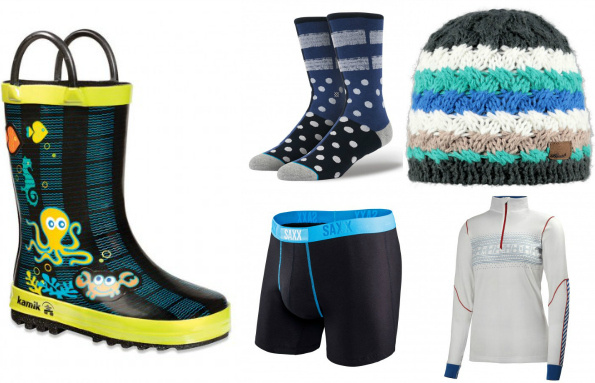 Altitude Sports is offering up to 50% off clothing, gear, accessories, and outerwear right now. This sale includes brands like Bogs, Saxx, Columbia, Merrell, and more. On top of that, you can receive a bonus 5% off with coupon codeCAA5AAA - when you write your membership number in the order commentary.  Receive free shipping on orders of $49.
Altitude Sports is a great place to pick up some of your favourite brands. If you are not too familiar with the company, they are the 'parent' company of The Last Hunt - which sort of acts as their outlet. However, Altitude Sports does have sales too. There is currently a large selection of children's Kamik rain boots on sale for 50% off. The Kid's Octopus Rain Bootswere $32.99 and are now $16.50. Both the Kid's Stomp and theYouth's Stompwere $30.99 and are now $15.50 each. The Stomp is a great basic rain boot but the Octopus is so cute I could die. <3
Winter is coming and I have inherited my mother's ability to freeze anywhere below 0. This Woolrich Women's 300 Park Flannel Printed Nightshirt looks to be just the thing to keep me warm. Originally $54.99, this nightshirt is on sale for $27.50. I just know my mother would love one of these.
Men might appreciate the added warmth from a Woolrich Flannel Shirt. There are two on sale for a fine price. The Men's Trout Run Plaid Flannel Shirt (Modern Fit) and the Men's Oxbow Bend Plaid Flannel Shirt (Modern Fit) are both on sale from $69.99 down to $35 each.
Personally, I am all about the small accessories. The Bart's Tickle Beanie and the Kid's Wilhelm Beanieare both on sale from $25.99 down to $13 each. These toques look super thick and warm - perfect for playing outside in the snow this winter. Stick one in each of your children's stockings for Christmas.
Saxx Underwear is a super popular brand for men. If you are struggling to find your man a gift, then consider a new pair of underwear. The Men's Fiesta Boxerin black/blue is on sale from $26.99 down to $14.84. Best of all, all sizes are currently in stock.
Come winter, I like layering up rather than wearing one bulky coat or sweater. This Women's HH One 1/2 Zipby Helly Hansen has almost a Christmas motif on the front. Originally $74.99, it is now only $37.50.
All of these are just the sale prices. If you have a CAA membership or know someone who does, then you can write your membership number in the order commentary and use the above coupon code for an extra 5% off.
(Expiry: unknown)