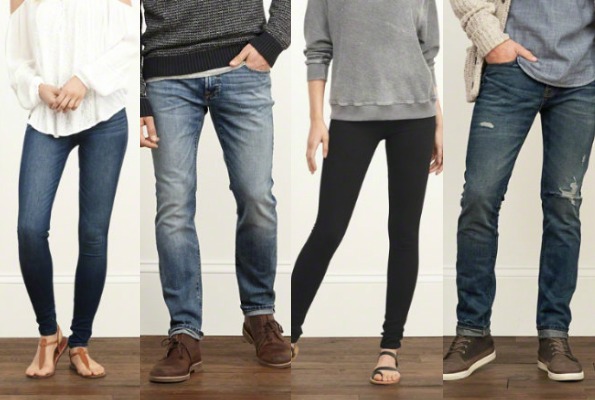 Now is the time to stock up on jeans for men and womenwith this hot deal from Abercrombie & Fitch. They've got all their adult jeans on for only $36, plus they will ship for free to Canada. Even better, all prices are in Canadian dollars and all duties are paid at checkout. This means no surprises on your credit card bill or at your door. What you see is what you pay. Considering these jeans are regularly at least $84, this is a hot sale. I'm going to get myself a few pairs and sneak in a few for my husband as Christmas gifts. Everyone can use a few new pairs of jeans!
Lately, I've been feeling like my look needs a refresh. I feel like I don't have enough jeans, if that is even possible. The problem I have is that I don't always feel jeans are comfortable because I have a belly, but my legs don't match the belly. I know many women who have the problem that they've got the booty, but their front doesn't match the back.
I am loving that higher rise jeans have come back in because for people with both the booty and the belly problem, this really helps! I also like a nice dark wash as it is versatile enough to wear with anything and is of course slimming. Super skinny in the legs is also my favourite for wearing with tall boots. These A&F high rise super skinny jeans are perfect for me! They are regularly $84.
As for my hubby, he likes a casual jean that is already distressed. This is so when it gets holes naturally, which it will with him always doing work, it will look meant to be. These A&F boot button fly jeans in a destroyed light wash are exactly what he needs. These are regularly $94.
What also makes this deal hot is not just getting up to $60 off jeans, it is also the free shipping. Normally you'd have to pay a minimum of a $15 flat rate on your orders under $100 and the flat rate goes up from there as your purchase price does. With free shipping, this really seals the deal.
(Expiry: 20th October 2015)