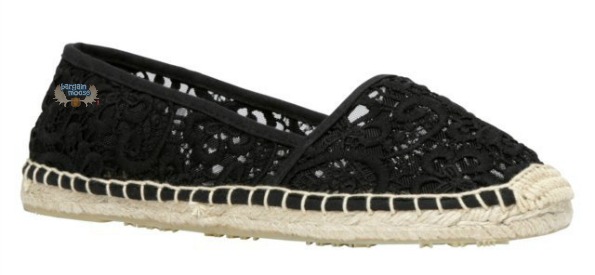 Aldo is having a hot sale on, with an extra 50% off all women's on sale footwear and 30% off all men's on sale footwear and handbags. I found a great deal on the Agrano espadrilles, now only $17.49 and were $40.
While it says an extra 50% off, it doesn't subtract any more in your cart, so the prices are as is.
I choose the espadrilles because I absolutely love this type of shoe. My favourite type is actually Toms, which I find so incredibly comfortable and versatile as I can wear them with almost anything. But, Toms are pricey and I found the exact same style of shoe at Toms (the black Moroccan cutout) for $89! Would you rather pay $17.49 or $89? I think both shoes are super cute, but I don't know what the big difference is that would cost $73? I could buy myself four pairs of the shoes from Aldo or one pair from Toms. And while Toms does the whole one for one thing, I could donate one of my pairs (or all three of the extra) for less money!
These shoes come in natural or black and it looks like all sizes are available. I also love that Aldo does half sizes and I think I'd like a pair of each colour.
With fall coming, boots might be on your agenda, and these camel coloured leather Thaede bootsare perfect with a jean and with skirts. They have been discounted heavily, down to $29.99, with a regular price of $130.
While the men's deals aren't as hot as the ladies (seems to always be the case), I did find a few that might be a good fit. The Coddington sandals for men are a great all-around sandal, that is easy to slip on and go and looks good. It was $60, now $34.99.
Shipping is free when you spend over $60, so get yourself a few things!
(Expiry: unknown)