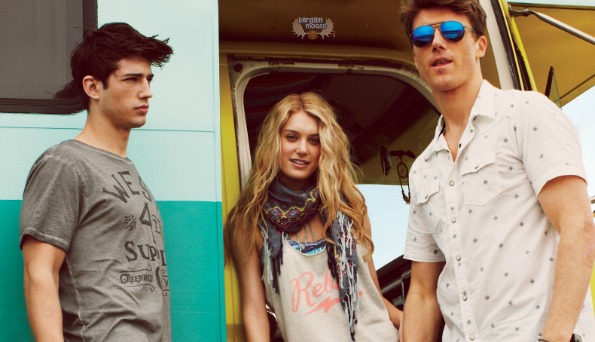 I love the classic, comfortable look and feel of Aeropostale tees for both me and the man in my life. My kids are always asking for Aero tees as well.  Low and behold, they are currently offering a great coupon for $20 off a $100 purchase for a limited time.
Click here to shop @ Aeropostale.com now
Coupon Code:  CATCH20
Discount:  $20 off $100
Expiry:  13th July 2014
There are so many deals on the Aeropostale website that I don't really even know where to begin.  Let's talk first about the Free State men's graphic tees.  They're all 2 for $18 (regularly $19.50 each)!  I love both See Differently and Faded Flag.
For the ladies, the classic Aero Heritage Henley is only $9.00 (regularly $29.50).  I really like this tee in incandescent pink, and can see myself chasing the kids all over the playground in that tee with some denim Capri pants.  Another thing I love here is that Aerpostale.com carries many of their items up to XXL.
Check out the P.S. from Aeropostale section for the selection of kids wear, where everything is currently up to 70% off.  A whole bunch of their graphic tees and tanks are currently on sale for $5 (regularly $12.50 to $26.50).  Back to school shopping?  Here I come!
Now I don't know about you, but I love to smell nice.  A great fragrance goes a long way.  Sadly, I'm not often able to justify the price of a lot of perfumes out there.  Aeropostale currently has their fragrances marked down to 50% off!  Check this one out:  Aero NYC 1987is a blend of beach flower and strawberry with velvet musk and driftwood.  Sounds heavenly!  And at $6.25 (regularly $12.50) for 15ml, this is a very affordable way to wear a fresh and fruity fragrance.
Now for the bad news.  Because they're shipping from the United States, they charge an International Handling Fee.  For my $104.65USD order, the shipping was $12 and the International Handling Fee was $27.58.  After the coupon discount my total order was $124.23.  Keeping in mind that this order was for 10 items, I still consider that to be a pretty good deal.  The good news here is that the International Handling Fee covers the costs of duty and any brokerage fees, so there won't be any unpleasant surprises at the time of delivery.
For all Aeropostale coupon codes, visit the forum.