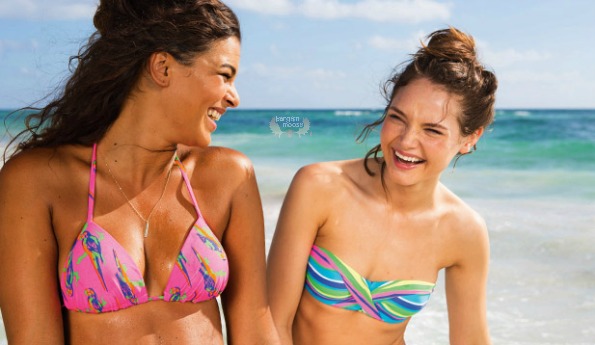 Shop at Aerie and buy yourself a swim top. Since you don't want to go bottomless (at least I don't think you do), get the bottom free! The bottom should be equal or lesser value and you can also buy a one-piece and get a bottom free too.
Feels like summer here in Ontario and I am not complaining. I'd love to go jump in the lake, although I saw a photo of how some of them still have ice on them! I don't think I'm in the mood for a polar bear swim so I'll stay on the sand, thanks. But, I can still get a bikini or one-piece on to sit at the beach. What I love about this deal is that if you buy a top, your bottom is free and most of the time, you need both. What's also great is that the bottoms are generally cheaper than the tops so you will easily be able to find that "equal or lesser value" item.
This Blakely bikini top in royal navy reminds me of the trendy sailor looks out there. I also find polka dots and that navy colour flattering on most people. The top is $38.15 and if you want the matching printed hipster bottoms, you'll get them free and save yourself $27.23. If you noticed, I took a penny off the total as they aren't technically free, they are $0.01, but I think you can spare it.
Shipping is free when you spend over $50.
(Expiry: Unknown)