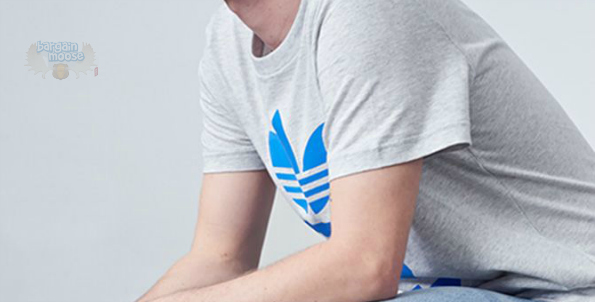 Adidas Canada has a mean sale on right now! The outlet is full of great deals up to 60% off their original prices. Now, you will save an extra 25% on all outlet items. This discount automatically works in your cart.
I discovered a fantastic deal on this iconic Adidas Polyurethane Airliner Bag in the women's outlet. Originally $120, the bag is now on sale for $49.95. With the additional 25% discount, the Polyurethane Airliner Bag comes down to $37.46. This travel bag is a reproduction of the iconic Adidas bag that has been around since your parents were born (almost). The bag features pebbled faux leather (white) with clean lines and the Adidas graphic logo on the front. There are two inner compartments.
There is a vast selection of women's tops in the outlet for 55% off. Most of them are a partnership between Stella McCartney and Adidas. ThisWomen's adidas Stellasport Boxy Tee was $55 and is now $24.95. After additional discount, pay just $18.71. There are a couple tops on sale for nearly 60% before the additional discount. This Women's adidas Stellasport Tank Top was $60 and is now $24.95. Pay just $18.71 in your cart. The reviews on this top are very good:
This top is a true to size loose fit and dipped in the back for a flattering look over tights. It looks like your fave weekend fashion tank but you can wear it training because the fabric is climalite so keeps you dry and comfy. I've washed it several times and it's kept its shape perfectly.
From the men's section I picked out a few items. ThisMen's Star Shirtwas $150 and is now $59.95. Pay just $44.96 after extra discount. This Men's Chinese New Year Goat Shirt is on sale from $100 down to $29.96 after extra discount in your cart.
In the youth section, I picked out this Youth Flower Tee and thisYouth Star Wars Teethat were $28 and is now $9.95. In your cart these shirts come down to $7.46 each.
There are plenty other deals for men, women, and children. While this deal lasts for a few weeks, I expect the best items to be picked over long before then. Sizes are pretty good right now, but will become limited as news of this deal spreads.
Receive free shipping on orders of $50 or more.
(Expiry: 4th August 2015)