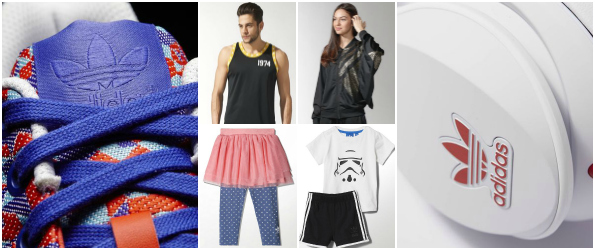 Adidas Canada has started their Cyber Monday sale and it is good - receive an extra 25% off all sale products and enjoy some killer door crashers as well! With items currently up to 85% off - this extra discount can really stack up for some great savings.
There are plenty of items discounted by more than 50% in the sale section, so I have concentrated on the highest discounts for the most part.
Kids
This Kids Duramo Slidewas $20 and is now on sale for $10. Pick up a new pair of children's slide-on shoes for just $7.50. For young girls, pick up this adorable Infants Pirate Leggings and Skirt set on sale from $38 down to $14.95. In cart, you will only pay $10.46.
This Infants Star Wars Stormtrooper Set is a hot buy at 75% off before the extra discount. Originally $44, the set is on sale for $9.95. Pay just $7.46 after additional discount. There are also plenty of shoes on sale. For example, theKids C-Flex Shoeswas $70 and is now $35. You will pay just $26.25.
Adults
For men, these Men's Shark Shorts are a hot buy. Originally $74 and now on sale for $19.95, they come down to $14.96 in your cart. The Supernova Reflective Vest is also a bit off season but a great buy. Originally $50 and on sale for $14.95 - you will pay just $11.21 at checkout. This Men's Boxing Tank Topwas $70 - is on sale for $14.95 - and comes down to $11.21 as well. For shoes, try the Men's ZX Flux Weave Shoes on sale from $130 down to $57.50. You can pick them up for $43.12 after coupon.
The women's section also has some good deals. This Women's Workout Tee was $44 and is now $19.95. Pick it up for just $14.96 in your cart. Perfect for the gym or working out at home, this Women's Gym Style Skort was $55 and is now $14.95. This beauty comes down to $11.21 in your cart.
The highest discount I could find is on this Women's Star Trefoil Track Top on sale from $110 to $14.95. If you are a size small, score this top for $11.21! In total, that is just shy of 90% off this track top!
Doorcrashers
Let us hit up the door crashers! Both the Women's Duramo Elite Shoes and the Men's Duramo Elite Shoes are on sale from $90 down to just $40 per pair. Plenty of sizes are in stock so if you need a new - and affordable - pair of runners then pick these up. There are also some pretty awesome headsets on sale like the Adidas Originals x Monster Over-Ear Headphones on sale from $250 down to just $100! There is no extra discount on door crashers.
Shipping is free on orders of $50 or more.
(Expiry: 6th December 2015)