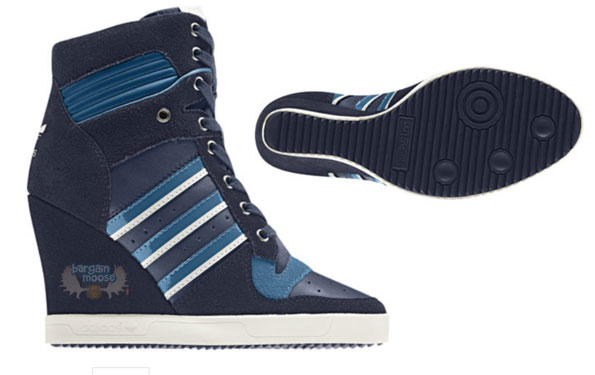 Meet sexy and comfortable combined into one shoe: the women's Rivalry wedge shoes. Currently, Adidas is offering an additional 20% off all of its clearance merchandise and you can get these shoes for just $68, instead of their sale price of $85 (reg. $170).
I never thought that I would be highlighting these kind of shoes as a deal but the more I look at them, the more they grow on me, especially since they feature 5 out of stars with raving comments such as this one:
I really like this shoe! I think they are fashionable and comfortable. I get tons of compliments on them. I am glad I bought them. The order process was easy. I received them quickly as promised with the expedited shipping.
Surprisingly, they are rates as being comfortable, but I suppose that should come as no surprise considering they are a wedge shoe. All of the wedges I own are sandals but I have to admit that they are indeed comfy to wear. In fact, I just wore a pair today with a Maxi dress to Costco and never once did I stop to rest my feet. They definitely look stylish as well, although the only drawback for me is that they feature an exterior material that is made from half leather and half suede. I wish it was made entirely from leather instead because suede is a harder material to maintain on shoes, but all in all, it shouldn't be too bad considering it's in a dark hero blue colour. I bought my hubby Hush Puppies suede beige shoes a couple of weeks ago during their mega 60% off site wide sale and those are already dirty, even though he hasn't worn them very often at all.
Suede also has a tendency to not stand up very well in the rain and considering that the toe area on these shoes is also perforates (with a couple of holes), then I definitely wouldn't recommend wearing them during wet days. I was also astounded to read that the wedge is 8cm high but then again, for a wedge, it really isn't that bad since you quickly get used to wearing them (unlike stilettos).
If these haven't grown on you yet, then don't worry, because there is plenty more to choose from Adidas' clearancesection. The additional 20% discount will be applied at checkout.
These would also ship for free as Adidas offers free shipping on all orders over $50.
(Expiry: Unknown)