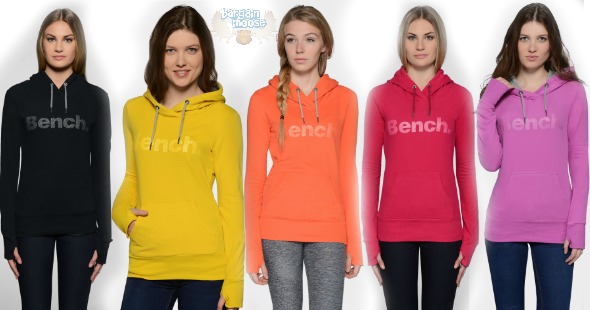 Do you have your eyes on some jackets or sweaters at Bench.ca, but you don't want to pay full price? Right now Bench Canada has their Family & Friends Event. Until the 18th of May, you can take 40% off store wide. This discount includes new arrivals and merchandise that already has a reduced price, some of which are reduced by up to 70% off anyway - and the 40% applies on top of that.
In addition, there's also a coupon code for an extra 5% discount on any items! You just have to sign up to the email newsletters on Bench.ca to get that.
I went straight for the sale section to see what kind of hot deals were there! The 40% off store wide Family & Friends event discount at Bench.ca is automatically applied, there is no coupon code required. Just shop and enjoy the savings. Actually, the reduced prices are shown before you even click on the item. There are plenty of options available for men, women and kids.
The BBQ Jackets have to be the most popular item for women by Bench.ca. These jackets were $129 and put on sale for $79.99, but during this event you will pay just $47.99 or $45.59 with the coupon code. There is quite a variety of colours available, so hopefully your size is still available in the colour you desire. I imagine these sale items will be sold out rather quickly, so snag what you want fast. Here are the colours available in the BBQ II Jacket for just $45.59 at Bench Canada:
There are lots of other items to choose from as well. The Bench Yohstar II Overhead hoodie holds a special place in my closet. This sweater has to be my personal favourite. While the regular cost is $79, that price was discounted to $59.99 and right now you will pay just $35.99 or $34.19 when you add the coupon code. All sizes are still available, so definitely add this comfortable number to your shopping cart. The Bench logo even has a sparkle touch to it, for a little sugar and spice. I own this sweater in black, but there are so many colours to choose from. At the bottom of the page you will see "Additional Colours Available" and you can select your preference from lilac to red. Basically the entire rainbow is there.
Bench.ca even offers free shipping on all orders over $99. With discounts like this, add a few of the items to your shopping cart and you will reach that minimum threshold so you don't have to worry about any extra fees. Otherwise shipping would cost you $9.95. Either way, shipping takes between 4 - 7 business days.
(Expiry: 18th May 2015 at 11:59 pm