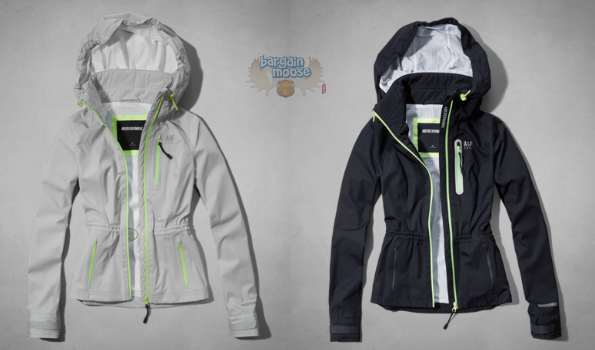 The Active Full-Zip Jacket is on deep clearance today at 75% off. This jacket was $215 but is now only $64.50. If you haven't already, sign up for the A&E email newsletter and you'll be rewarded with another 15% off code to add to this purchase.
Many moons ago when I was in college, I spent part of a summer working in the Abercrombie & Fitch Distribution Centre. I had a smashing employee discount card that always made the retail employees think I was someone important in the company. By far, my favourite part of my day was hitting the Abercrombie gym. I would trek from the parking lot and walk through the entire width of the building to the courtyard. Once there I would grab a razor scooter they left lying around for anyone to use, and rain or shine would glide the whole length of the building before finally arriving at the gym.
I wish for my fun commute that I had this A&F Active Full-Zip Jacket. This jacket has both great style and functionality. It is waterproof to keep you dry on wet days. I like that it has a bungee at the waist to give your coat more shape. It comes with an interior pocket for your phone that has a touch sensitive cover so you do not have to take your phone out to check your messages. It is available in three colours with a nice sizing range available overall.
Grey- Extra Small, Small, Medium, Large
Navy- Extra Small, Small, Medium
Coral- Large
To sign-up for the newsletter to get your extra coupon, go to the main page and scroll all the way down to the bottom. In the bottom left corner you should see a button to sign up for the e-mail list. Fill in your e-mail, and a welcome e-mail with your 15% off code should show up in your e-mail almost immediately.
Abercrombie also have lowered the free shipping limit currently to only $75. If your order does not reach the minimum, shipping is a flat rate of $15. They have many other great deals in the clearance section to help get you reach your minimum that you'll want to take advantage of to waive these costs.
For men, there is the Cascade  Lakes Jacket. This jacket is available in blue or black in a variety of sizes. The jacket was $190 but now you can score it for only $48.45. I like this little lightweight track jacket for those variable spring days. You may want to skim over some of the other clearance deals for men.
If you are looking for something smaller to top off your cart, check out some of the ladies sweat pants on sale. The A&F Skinny Sweat Pants in navy were $64, but are now only $16.32. If you would like another colour, there are a multiple designs to choose from in the clearance section for ladies.
Grab these deals now. Today is the last day for 70% off the clearance section.
(Expiry 6th March 2015)