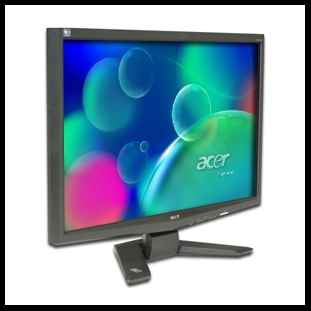 This seems like a good deal on an Acer LCD monitor from The Source by Circuit City. (Item no 2511775) They're asking for $199.99 for this LCD flat panel monitor, which is a saving of $40 on the regular price. You can get it shipped to your store for free, plus you can also get 2.6% cashback from Dealguild if you wish.....
TigerDirect Canada is also doing this computer screen for $199.99, but you'd pay a bit extra with those guys for shipping.
If you'd like to read a review on this particular 22 inch LCD monitor, there's a bit of a write-up on CNET. I've heard that Acer computer monitors are pretty good quality in the grand scheme of things. It has got a 3 year warranty anyway, so no trouble there.
If you're still using an old CRT computer monitor, I'd definitely think about changing over to a brand new LCD flat panel monitor. Not only do they look more stylish, they're supposed to save power too, lowering your electricity costs. Or this may also be a "load of crap", you decide!
P.S. Sale ends September 24, 2008 – grab it fast!
- Anna