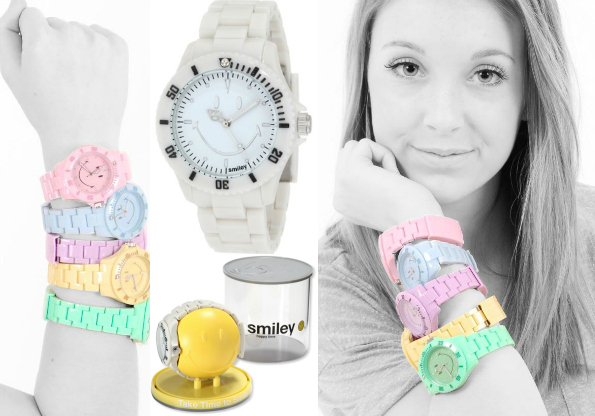 If you want to give your loved one - or yourself - a gift that will produce smiles, then pick up this lovely Smiley "Happy Time" Watch. Originally $106.40, the watch is now on sale for just $14.33. I checked this price out on CamelCamelCamel where this is the cheapest this watch has ever been!
I couldn't find this watch many other places so I just price compared with other Smiley "Happy Time" watches on Amazon Canada. The men's watches range in price from $48 to $69 and the only other woman's watch is currently $88.13.

I have looked at a lot of watch deals over the years and I can tell you, this is great. Under $15 for a cool watch like this is an amazing price. This one even has pretty good reviews on Amazon with only one seller really complaining because she thought there wouldn't be any exposed metal (has metal allergy). Of course, the back of the watch is metal though the strap looks to be silicone. I find the silicone bands to be much more comfortable and I actually own a beautiful watch I do not wear nearly enough.
This watch is manufactured by Wave-Gear and features Japanese Quart Movement, which is fairly reliable. It comes with a 12 month warranty against any issues so you are safe and secure. While you watch is water resistant to 165 feet... that is NOT water proof. I highly recommend you take off your watch for showers, washing dishes, and other water activities.
While it is getting a bit late for Christmas gifts - Amazon Canada is still shipping in time for Christmas as they say "Arrives before Christmas." You could either give this gift as a rather decadent stocking stuffer or give it as an individual gift. it does have the coolest case ever (smiley head) so you may want to just give it individually.
I don't expect this price to last long. I have noticed that sometimes price is tied to purchases. As soon as a few people purchase, the price goes up a bit. I still think this watch is a great deal anywhere under $20 to $25, but I hope all our Moosers can get it for under $15.
Receive free shipping on orders of $25 or more.
(Expiry: Unknown)