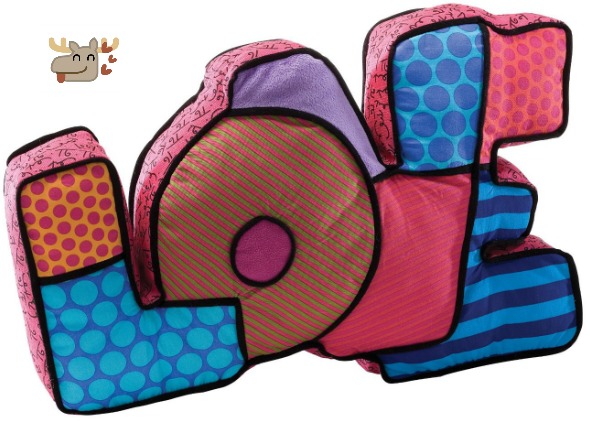 Do you feel the love? Maybe you would if you had a throw pillow that says "Love"? Britto's Love Pillow is on sale at Amazon.ca right now for 77% off the regular price. That means you will pay just $8.90. This pillow is great for the couch or a bed, and if you spend $25 you will get free shipping or Amazon Prime members will get free shipping as is.
What is love, baby don't hurt me... don't hurt me... no more! This pillow won't hurt. Even if you throw it at somebody. I know it won't hurt your wallet, especially because Amazon.ca has lowered the price down to just $8.90 from the original price of $39.19. That is 77% off. Are you wondering what the size of this pillow is? It is 41.3 cm x 9.5 cm x 41.3 cm, so it is not a huge pillow but it is still an adorable addition for a little girl's bed or even your living room sofa. Reviews show that customers have been happy with this product. If it does happen to get dirty, instructions say to simply surface wash the item. I never find that surface wash gets all of the dirt and grime out.. especially when you have kids. Don't you agree? Either way, this is an adorable little pillow for an even better price. I love how the letters look like they are patched together. They have several colours included so they can match quite a variety of room decor. The colours I see are orange, red, blue, pink, purple etc. From spots to stripes, I bet this pillow has it all.
If you're looking to reach the Amazon Canada minimum threshold for free shipping, then you might want to check out the other Britto offers at reasonable prices over at Amazon.ca:
While the above items are not as great a price as the Love Pillow, they are still fabulously cute. They would make an excellent Christmas gift for anyone really. Amazon Canada offers totally free shipping on all orders over $25. If you have an Amazon Prime membership, then you will get free shipping anyway.
(Expiry: Unknown)