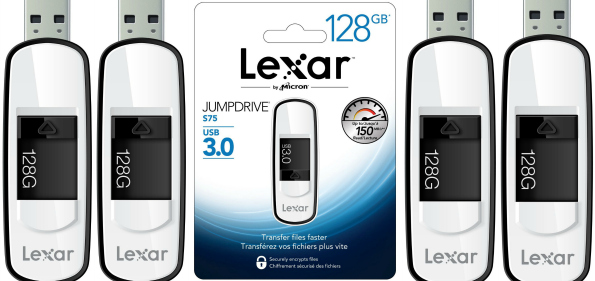 We have seen several deals on 2.0 flash drives lately but hardly anything on a 3.0 flash drive... which is the fastest flash drive you can get! Right now, this Lexar JumpDrive S75 128GB USB 3.0 Flash Drive is on sale from $166.99 down to just $29.99 with free shipping.
This flash drive is everything you need to toss | donate | give away all your other flash drives and consolidate your files. This flash drive has endless space for family movies, your music collection, vacation photos, and more.
I recently recommended a flash drive deal to a friend of mine as he - as a professor - has to take Powerpoint slide packages back and forth to two Universities every day during the semester. I have also recommended flash drives to students for transferring assignments on and off school computers and taking them back to their home computer. Students who rely on the school's network to back up their assignments often end up losing their assignments when the network goes down or is inaccessible. You ALWAYS want to have a digital backup of your own work. It is easier to put that backup on a flash drive so you can modify the same file at home, at work, and at school.
this flash drive has up to 150MB/s read and 60MB/s write speed for fast file transfers. It works best when paired with a USB 3.0 ports so take a few minutes to look at the ports on the side of your computer. If one is different from the rest, then there is a good chance you have one 3.0 port and the others are 2.0 ports. Always place your 3.0 flash drive in your 3.0 port for fastest read and write speeds. While these flash drives are backwards compatible... the speed will suffer.
Amazon prices change and if the item goes temporarily out of stock or takes over a month to ship you might see the deal shifted to under the wishlist button.
The same Lexar JumpDrive S75 128GB 3.0 currently costs $139.99 @ Best Buy and $54.96 @ Staples. I also found the Lexar JumpDrive S25 128GB USB 3.0 Flash Drive for $61.32, so I know this other one is a good deal.

(Expiry: Unknown)