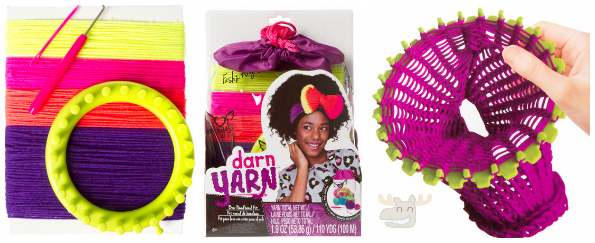 Creative loom-based toys are all the rage, what with Rainbow Loom so popular among girls. I found this Darn Yarn Bow Headband kit on sale from $14.95 down to $3.50 at Chapters Indigo - that is 76% off the original price. You receive all your child needs to make their own bow headband.
The kit comes with the knitting loom, knitting hook, four colours of yarn, needle, drawstring project tote, and instructions. This entire kit can be used over and over again - you will just need to restock the kit with some new yard once the yarn included is used up. I like this toy because it inspires creativity and creates a usable product. Your kid can wear the headband that she made herself or give it to a friend as a friendship gift. I also think gifts that can be used over and over again are the best kind.
This kit is fun for knitters of any skill level and is especially designed for beginners. The visual instructions included show pictures of how to knit your own bow headband, which is a useful feature for those who learn more from watching other than from reading. Transport the entire kit in the included tote bag.
I could not find this kit at many other places, but Claire's Canada has the same kit for $17! I found another headband kit from Fashion Angels for $15.95 at Chapters Canada as well. It seems like this is a fantastic price that you just will not find elsewhere. I recommend these for loot bags (what a great item!) or party gifts for the attending kids. At only $3.50 each, you could easily buy a bunch of these without breaking the bank.
Now, Chapters Canada has free shipping on orders of $25 or more. This is makes a great add on item if you are purchasing something else. Or, if you are planning a party, buy a bunch of these (8 for free shipping) to stick into children's party bags. These would make great Christmas gifts too.
If you are interested in how this kit works, check out this cool video from YouTube:
(Expiry: Unknown)