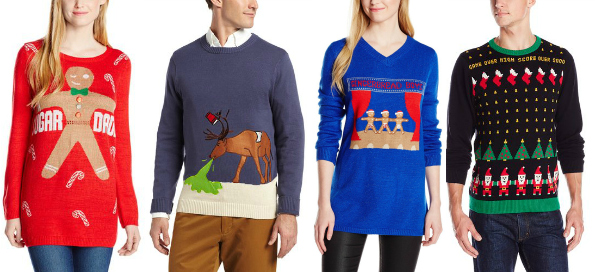 I get excited about super awesome deals and this one is one of my favourites so far today. Receive 75% to 77% off a selection of women's and men's ugly Christmas sweaters. Each women's sweater was $64, but is now just $15.99. Each men's sweater was $70 and is now $15.99. These sweaters are both sold by and shipped from Amazon so they qualify for free shipping on orders of $25 or more. Just pick up two sweaters and you are golden.
Sizes and stock are super limited as you would expect from such a hot deal. Sometimes the size information is buried a bit (in smaller text) but take a minute to find it so you make sure you order the right size.
Men
The men's section of discount ugly sweaters is far larger than the women's section and has so many more sizes available. Frankly, I would just buy one of these even though I am female - I like oversized sweaters. The Alex Stevens Men's Santa Invaders Sweater is probably one of my favourites. It is a take on the old game of Space Invaders. Originally $70, this Christmas sweater is now $15.99.

Next on my list would be the Alex Stevens Men's Reindeer Hangover. It looks like someone got into the Santa Eggnog and is not having a good time now. I like the plastic beer cup on the antler and the sock across the back.

If you want to annoy your relatives for Christmas, show up in Alex Stevens Men's Polar Bear Pairugly sweater. This is great for visiting your insufferable in-laws as you get to remind them of what you do with their child. There are SO many more men's Christmas sweaters so visit the main link above for all sweaters on sale for $15.99.

Women
The Isabella's Closet Women's Sugar Daddy' Gingerbread Ugly Christmas Sweater Tunic has the largest size selection left right now. This long tunic works great as an ugly Christmas sweater-dress for girls who are a bit on the shorter side. Enjoy an over-sized gingerbread man with the words 'sugar daddy' and a bunch of candy canes. Originally $64, pay just $15.99.

The rest of the women's sweaters are only available in size large. Choose from:
While they will not arrive in time for Christmas, you can buy these sweaters now and wear them next year. :)
(Expiry unknown)