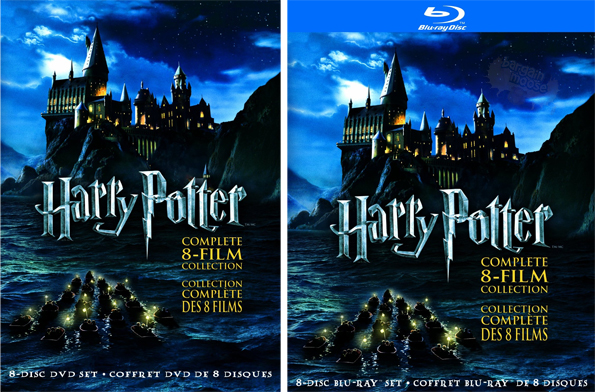 This is a deal for today only at Amazon to launch their Cyber Week of deals to celebrate Cyber Monday! You can save 72% to 75% on the boxset editions of all the Harry Potter movies, either on DVD or on bluray.
If you're interested in the DVD version, it's down 75% from $98.99 to only $24.99. If it is bluray you are after, it's down 72% from $139.99 to $38.99. And as usual on Amazon.ca, any order over $25 will get free super saver shipping. Sadly that means if you're buying the DVD collection on its own, it wouldn't come with free shipping. But it wouldn't be hard to pop something else in your cart, especially as there are lots of other bargains in the Cyber Week sales there.
Let me price compare both these entertaining editions.
If you are looking at the Harry Potter: The Complete 8-Film Collection (Bilingual) on DVD and paying $24.99, I think that's a great price. Elsewhere on line in Canada, it's $36 @ Futureshop, $35 @ Walmart, $70 @ Indigo, $75 @ Bestbuy, $80 @ Londondrugs and $66 @ Staples.
If you want to buy the Harry Potter: The Complete 8-Film Collection on Blu-ray, elsewhere you can expect to pay $60 @ Walmart, $58 @ Bestbuy, $58 @ Futureshop, $133 @ Archambault, $110 @ Indigo, $130 @ Londondrugs. Again, a super price from Amazon today!
How you seen and/or read all of the Harry Potter books and movies? As for me, I've read about 5 of the books before I got bored… but only made it through 3 of the movies. I really must give it a chance and sit down and watch them all, because it's very easy to get spoilered all over the internet these days.
(Expiry: 30th November 2014)