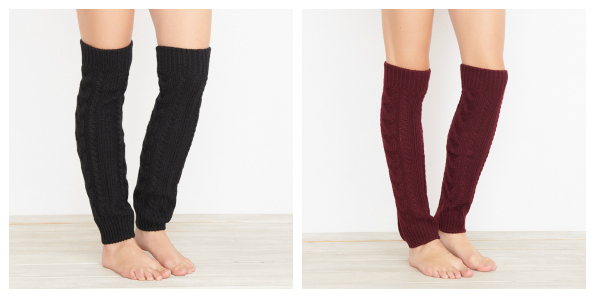 I am delighted by little deals that fulfil an essential part of my wardrobe but do not cost a lot. Right now, Garage Clothing Canada is offering 75% off Cable leg Warmers. Originally $19.95 each, these leg warmers are now on sale for $5 per pair with free shipping. There are two colours currently available.
These are your basic knitted leg warmer that starts at the ankle and comes up to the knee. You can use them as an extra layer inside your boots and turn over the tops so they look like and function like boot socks. This would work really well in a boot like the Hunter Rain Boot. You would not want to cuff the sock in a pair of Bogs because of the handles.
Alternatively, wear these at home to keep your legs warm. I have an odd habit of wearing shorts around the house instead of full pants - so my legs get cold all the time during the winter. These would help keep my legs warm while I did housework or practiced yoga (haha... like I do yoga). I may not actually do yoga, but I do like to lift weights.
You even get a choice of colour, which is pretty nice for something so steeply discounted already. Garage Canada is currently offering free shipping, which means you not only save a bundle on the product but you also pay nothing to have it delivered to your door. It is early enough that these leg warmers should arrive in time for Christmas. If you are worried, you can always pay just $5 for second day shipping.
These leg warmers would make great stocking stuffers as they are small, practical, fun, and they only cost $5. When stuffing a stocking full of goodies, you want a careful balance between treats to eat, trinkets to play with, and a few more decadent gifts. Just roll up these leg warmers, tie a pretty bow around them, and drop them into their stocking for Christmas.
Check out the rest of the sales at Garage Canada and take advantage of their free shipping promotion while you can.
(Expiry: Unknown)