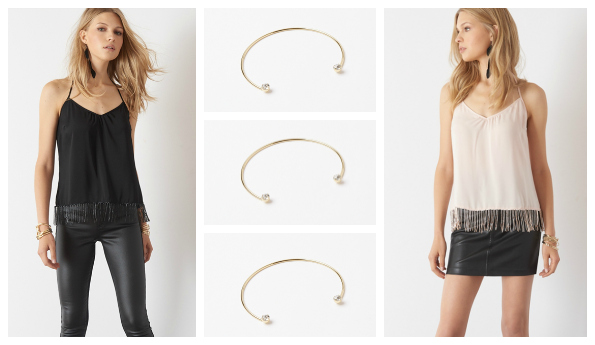 Dynamite Canada is also having a Boxing Weekend sale, but most of the sale was underwhelming in my opinion. However, I did find a super nice deal on this lovely Beaded Halter Neck Cami in black and silver peony and in jet black. Originally $39.95, this top is now on sale for $10 with free shipping. That makes the top a couple cents shy of 75% off and a nice bargain buy if you are clothing shopping this weekend.
This deal is pretty simple - it is a pretty top for a great price. I liked this deal for several reasons. First, you have your option of two colours: if you do not like one colour, then simply buy the other. Secondly, the shirt is currently in stock in sizes extra-small through large giving you plenty of size options in both colours.
This woven top with a beaded fringe is semi-fitted to your body. It is sleeveless and has ties that wrap around the back of the neck in a halter-style. That leaves a nice open bit of back. They suggest hand washing this top due to the delicacy of the fabric, but you could probably just wash it on the delicate cycle in your washing machine.
The website suggests pairing this with a great necklace, so I also wanted to mention this Collar Necklace with Stones on sale from $12.95 down to just $3. You do not need an add-on as free shipping is on any order, but this would be a great add-on if you did need one. It is a thrifty find that can brighten up any wardrobe. I like how this necklace would work with a more formal outfit and just with jeans and a t-shirt. For those on a tight budget, this necklace is a must have.
Pick up one shirt, pick up both shirts, pick up a shirt and necklace, or just pick up the necklace! Either way, you will be saving a good chunk of money and still get free shipping on your order. Check out the rest of the Boxing Weekend sale to see if anything else tickles your fancy.
(Expiry: 27th December 2015)