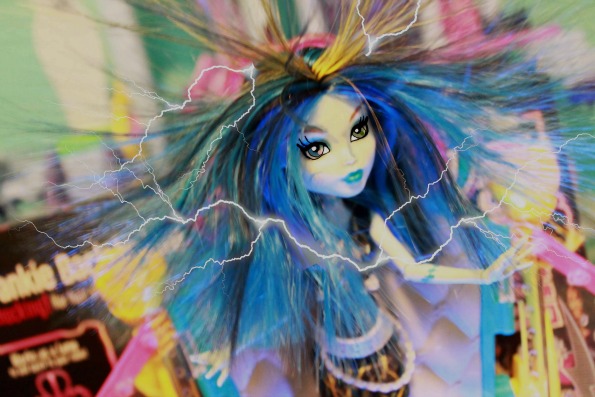 While searching for some great Christmas presents I wouldn't mind getting myself, I came across this Monster High Freaky Fusion Frankie Recharge Chamber at Walmart Canada. Originally $54.97, this recharge chamber complete with Frankie doll is now on sale for just $16. Receive free shipping to any Canada Post location or Grab & Go locker (GTA).
At 71% off the original price, this Monster High Freaky Fusion Frankie Recharge Chamber would make a wonderful Christmas present for any little girl or boy into the Monster high dolls. This set comes with a unique Frankie doll so it is already a great value as Monster High dolls, at regular price, retail for $19.95 minimum. You cannot get this specific doll (hair, accessories, clothing combination) separately. With this doll you also receive her freaky chamber.
This chamber is pretty cool. You stick Frankie inside the chamber and her here goes all wild due to static electricity (or magic... your call). You push the button once for her hair to go all awesome and you press the button again and you will get a pretty awesome light show. Given that Frankie is a creature brought to life via electricity, this set is super cool. It reminds me of Van Hellsing... there is a lot of lighting and 'yes master' in that movie.
I have a few Monster High dolls myself and have been dying *hehehe* to get my hands on a Frankie doll. Usually, Frankie dolls are not discounted all that much. I am delighted this set is on sale and I wonder if the chamber will work on electrifying any of my other dolls' hair... like Elisabat. One reviewer said:
I work overseas and only see my daughters once a year, when i asked my oldest what she wanted from "santa" , she wanted this toy. once delivered, she fell in love with it, what i liked was that it actually did everything it advertised, i thought that was cool.
You will certainly not find this chamber and doll combination cheaper anywhere else. Pick one up for Christmas this year to the delight of your child.
(Expiry: unknown)