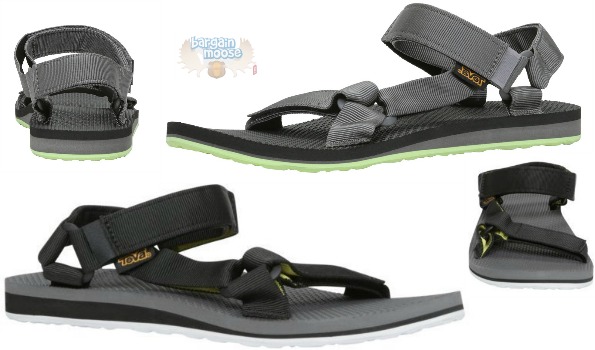 Little Burgundy is heavily discounting the Men's Teva Original Sandal today and you can grab it for one heck of a steal. These durable sandals were $50, but you can grab them now for only $14.98.
I have mentioned my love affair with Teva sandals before on this blog. Perhaps before they did not have your size or you just were not ready for summertime. Never fear, you have another chance to try out a great pair of Teva sandals and this time the deal is for the guys. When it comes to fashion, my husband is beyond frugal to stingy at times, and I even have him hooked on Teva's sandals.
Over at Little Burgundy, it looks like they are clearing out the men's version of the original sandals. Teva has remade this style of sandals many times in many different colours and patterns. Today you are in luck because the ones I found on sale are in black or grey and will match almost everything. There are still many sizes available, here is the breakdown.
Grey: 8, 9, 10, 11, 12
Black: 8, 10, 12
These shoes have a synthetic lining and a breathable sole. One of the best things I find about these shoes is they rarely get smelly, but the few times they have a quick trip through the washing machine solves it. You will find both the ankle straps and the strap across the toes is fully adjustable for full comfort.
I looked at some of the other retailers who carry Teva sandals, and the price is standard across the market. Check it out below.
I was surprised that none of these sites had any reviews on these Teva sandals. I suspect Teva releases a new line of this classic style sandal every year so that may account for the lack of reviews. I had to go to Teva.com to get a solid review, and then I found 49 happy reviews. Here is a sample of those reviews:
Used every day, pants or shorts, socks or not, rain and shine.

Good for river crossings and very comfortable.

Best purchase of my life
Shipping at Little Burgundy is only free if you spend $75. The good news is shipping is very reasonable at Little Burgundy and is only going to set you back $5 for shipping. Grab yourself a pair in each colour. You are going to love these sandals.
(Expiry: Unknown)