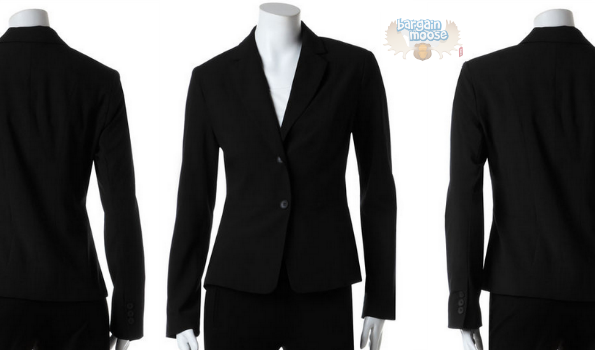 Cleo is having a nice little winter clearance sale that is worth checking out. Among some great choices, check out the black seamed blazer for ladies at 70% off. This blazer was $90 but you can grab it now for only $26.50. If you spend a minimum of $40 you can receive $1.99 shipping with the coupon code Ship4199.
I found a great little Ladies Black Seamed Blazer today over at Cleo.ca that would be a fabulous staple in your wardrobe. While I do not have a need to wear blazers in my workplace often anymore, I do like to keep a few in my wardrobe to dress up an outfit quickly. A well-cut blazer can go from a business meeting, to Sunday tapas over jeans, and every occasion in between. Every woman should have at least one tailored blazer in her arsenal and you can grab this one for only $26.85. Check out below and see if they have your size available.
Regular Sizes Available- 4, 6, 8, 10, 12, 14
Petite Sizes Available- 8, 10, 12
Prices across the web for a ladies black blazer vary quite a bit. Sears has the Jessica Canada's best washable jacket for $50. The Sears version seems a bit boxy in shape compared to the Cleo blazer, but they are both fitted jackets. You could alternatively buy this fitted blazer with metal zips @ Zara.ca$99. Banana Republic has a cutaway blazer for $185. I have personally paid around $100 for a tailored blazer in the past and find this Cleo blazer to be a great deal.
There are three reviews on this jacket. Two people seem happy with it overall, and one person who was unhappy with the material. Here is the response from one of the two happy reviewers who simply ordered it in the wrong size.
I am 5'4 and 120 lbs - I took a chance and ordered this in a 4 Regular. Unfortunately, it was noticeably too big and has to be returned. The blazer is beautiful, and very well made. I plan to reorder in a petite because I love it so much!
With two out of three reviewers liking the blazer, I would take the chance and buy it though I would consult the sizing carefully to get a good fit.
Bargainmoosers, what is your essential wardrobe staple item?
(Expiry: Unknown)