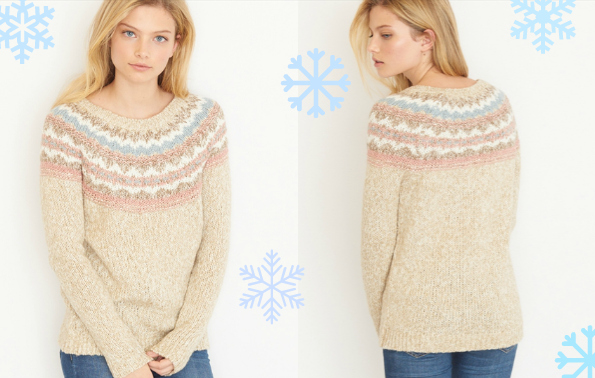 Winter is here - even on the west coast - and I am turning to sweaters more and more to keep the cold out and the warmth in. Stay warm in this Jacquard Crewneck Sweater from Garage Clothing Canada. Originally $49.95, the sweater is now on sale for $15 with free shipping.
This sweater has a very traditional knitting pattern around the neck with bands of colour accenting the shoulders and upper torso. I really like these sweaters - they are quite traditional winter sweaters that make me think of ski cabins, fireplaces, and sitting around with a hot chocolate after a long day on the slopes. This sweater looks so warm and cosy: perfect for building a snowman or running out to grab another litre of eggnog. 
I was delighted to find this sweater at Garage Canada: it is the only sweater marked down by 70% off and it is the cheapest sweater (now) on their website. It looks amazing and it is still available in several sizes: extra-small, small, medium, and large. With such a great size range, great price, and great style - how could I not share this deal?
The sweater features a jacquard knit in pale colours with cuffed sleeves and hem. The neck is a standard crewneck and the long sleeves will help keep your arms warm. You will want to wash this in cold water to prevent shrinking. I am not sure about drying, but I would tend to lay out a sweater like this to dry so it maintains its shape. I would also hate to shrink it in the dryer. I remember this cashmere sweater I had... It was too big for me and then I accidentally dried it. Suddenly, it was too small.
Garage Canada is currently offering free shipping on any order so you not only get a great deal on a sweater - it will also ship to your door free of charge. If you might be gifting this to someone for Christmas, then you can pay $5 for two-day shipping just to make sure it arrives on time.
(Expiry: Unknown)