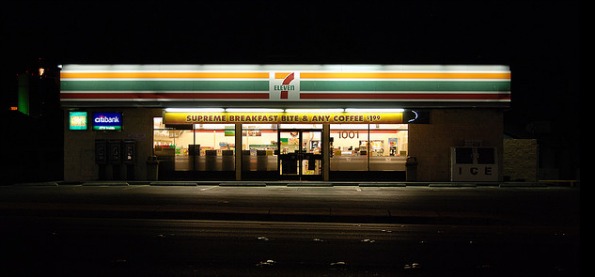 Every Wednesday, you will be able to walk into your local 7-Eleve store and get any sized coffee you would like  for just $1.
It doesn't matter what time of year it is, coffee seems to be a staple for most people in the morning. This $1 coffee event will happen every single Wednesday for a limited time only. It looks like it is valid from morning until midnight on every Wednesday so those of you that work the night shift and want a good priced pick me up can take advantage of it as well.
There is no coupon needed to get this deal and you are not limited to one coffee per person.  That means you can head in and grab any sized coffee for your spouse or co worker as well and get both of them for just $1.
If you are heading in today, there are some promotions on for Cinco de Mayo:
Buy one get one free Taquitos
Buy one get one free Hershey's king size almond bars
Buy one get one free Nesfruta
Buy one get one free Coco Coconut water
Buy one get one free Jolly Rancher chews
Mini Tacos 10/$2
Super Big Gulp only $0.99
If you have a smart phone, I suggest checking out their free app.  Once you download this app, you will get coupons, free offers, alerts for upcoming promotions and more, like the free Slurpee one on now.
(Image credit to Roadsidepics )
(Expiry: Unknown)