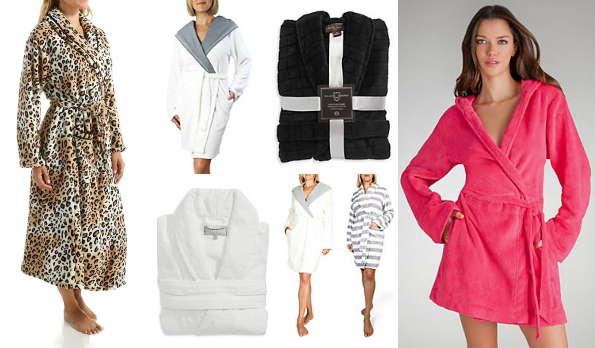 I always get so darn excited about deals like these! Hudson's Bay Canada is offering a sweet 69% to 72% off select robes for men and women. The women's robes were $79 and are now on sale for $24.99. The men's robes were $70 and are now on sale for $19.99 each. Receive free express shipping on your entire order today.
Women's Robes
I did a lot of digging for these deals, so check out all the individual links below. There are a lot more (women's) robes at this sale price than I can list, so check out the rest at Hudson's Bay as well. First, I think I'm in love with this ELLEN TRACY Animal Print Robe on sale from $79 down to $24.99 (all the women's robes are discounted like this). It is a full-length robe that looks so warm and cosy: it is like curing up with a big cat. This MIDNIGHT MADDIE Short Dotted Robe is also driving me crazy as there are so many sizes in stock and such cute patterns. To make things simpler, I have divided the rest by brand.
DKNY
I like DKNY because it is a brand I recognize that makes pretty nice stuff. They have the DKNY Short Soft Wrap Robe in cardinal and orchid on sale as well as the DKNY Houndstooth Robe, which may be an acquired taste. The DKNY Seven Easy Pieces Short Wrap Robe in black is on sale and a great basic robe.
Lord & Taylor
Lord & Taylor does amazing stuff with fabrics. They have a more 'adult' aesthetic that uses a lot of black and white. Both this LORD & TAYLOR Chenille Cable Knit Robe and this LORD & TAYLOR Long Terry Robe are included in this sale. The long terry robe is a total steal at just $24.99.
Claudel
Claudel has so many robes on sale from $79 down to $24.99 that I really cannot name them all. However, here are some highlights:
Men's Robes
There are two men's robes on sale and they are the best discounts when it comes to calculating out the percentage. I don't see why these are 'men's robes' - they would do just as well for a woman too. The BLACK BROWN 1826 Embossed Plush Robe was $70 and is now $19.99. In addition, the BLACK BROWN 1826 Plush Fleece Robe is on sale from $70 down to $19.99.
Expiry: Unknown)