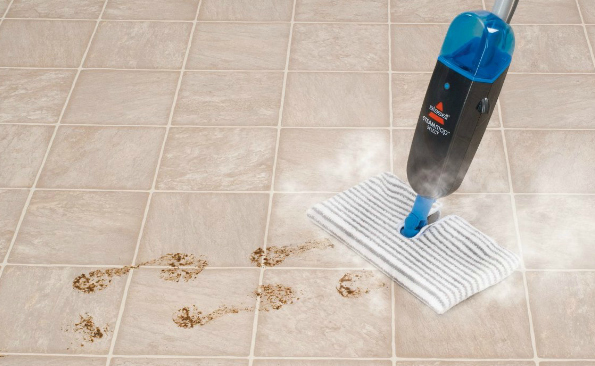 The holidays are coming and your floor is about to be a sticky mess of gravy drippings, sticky sauce, more. That is, unless, you pick up this Bissell 80K6C Steam Mop Select (Titanium) on sale at Amazon Canada TODAY only. That is right folks; this steam mop is one of the deals of the day over at Amazon. Originally $111.99, the steam mop is now on sale for $37.49. Receivefree shipping as your order is over $25.
This is everything that you need in a mop. The mop itself is dual-sided so you can clean twice as much with just one mop pad. You can just flip the mop over and use the other side when the first side gets too dirty. I am really happy that these are reusable pads instead of disposable like Swiffer. The mop actually comes with two washable microfiber mop pads to handle all your needs. One pad is soft and the other has built in scrubbing strips for those tough spills.
With a swivel head, you can get into all those hard to reach places as well. The Bissell steam mop uses only tap water so there is no need to buy any expensive chemicals. I also like that it has a removable tank that you can fill up easily at the tap.
The steam is controlled by a trigger so you can control how much steam goes onto your floor in whatever areas you need it. Honestly, cleaning your hardwood, laminate, and tile floors has never been so easy. I seriously need one of these as my entire apartment is faux hardwood flooring. A vacuum, a broom, and a mop could all easily be replaced with a steam mop.
It is vital to price compare an item like this as it is carried at many different stores. Here is a quick rundown on what this Bissell 80K6C Steam Mop Select currently costs at other stores:
$49.99 @ Costco Canada
$89.99 @ London Drugs
$69.98 @ Walmart Canada
$79.99 @ Sears Canada
$89.99 @ Home Depot
As you can easily see, Amazon Canada's price really beats the competition. Even though this mop is currently a 'hot buy' at Costco, Amazon Canada still undercuts their price by nearly $13.
(Expiry: 4th November 2015)