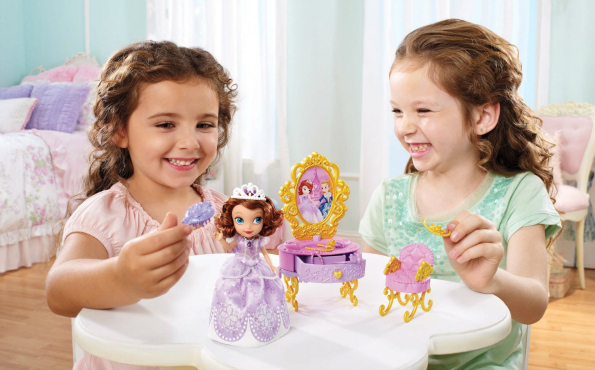 Do we have any Sophia the First fans among our young Moosers? The Disney Sofia The First Ready for The Ball Royal Vanity is on sale from $29.95 down to just $10 at Walmart Canada. This beautiful vanity set comes with a matching Sophia doll and it will help her to get ready for the ball in style. Receive free shipping to your local Canada Post location across Canada or grab and go locker (Toronto area).

This set has everything you need for dressing Sophia up for the ball. First of all, it comes with a gorgeous Sophia doll complete with ballroom dress. Next, the set comes with three necklaces and two additional tiaras so Sophia can play dress up.
These accessories fit in the drawer of the vanity. On the vanity there is a mirror that switches from a picture of Sophia (and Amber) to a mirror at the push of a button. This is such a cool feature an such an inexpensive set. The Sophia Vanity set also comes with a hair brush for Sophia.
There is also a lovely cushioned chair that comes with the vanity set; however, some reviewers have said that Sophia does not sit in the chair. Overall, reviewers seem to be quite pleased with this little set. Like one person said:
Bought this for my niece for her birthday since she already had a vanity of her own. Now her and her doll match!
For $10 you are getting a Sophia the First doll, vanity, chair, three necklaces, two tiaras, and a hair brush. Given the mirror that flips and the drawer that opens in the vanity, this is a pretty awesome set.
This toy set would make an excellent gift for Christmas as it is affordable, has amazing features, and plenty of accessories. This is one of those 'under the tree' gifts instead of a stocking stuffer. At $10, you would be pressed to do better if your daughter loves Sophia The First.
(Expiry: Unknown)