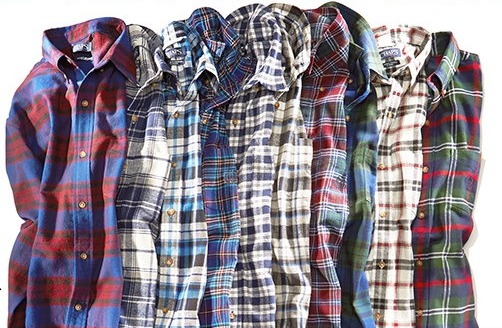 I've always loved a nice flannel shirt and I am so glad they are back in style. That's why when I saw these Chaps Flannel Shirts for men I couldn't resist, I think you can really dress them up or dress them down. They are 65% off, down to $19.99. At that price, these shirts are very inexpensive considering the quality Chaps is known for. These flannel tops are a one day deal, so grab them while you can. Free express shipping is also available at The Bay on orders over $99.
With the Winter temperatures finally arriving, it is important to stay warm. These flannel shirts are bound to do the trick and you can't beat this price. There's so many options to choose from with these flannel shirts, the selection at The Bay is really great. I'm a big fan of the two colored plaid shirts, like with this Blue Chaps Plaid Flannel Shirt. It was $65 and with the 65% off it comes down to $19.99, it's still available in all sizes.
These shirts aren't the only great deals The Bay is offering at the moment on Chaps products. Some kids items are on sale too, with discounts on cute outfits that are up 50% off :
I especially like the two-piece outfits, you're getting a great bang for your buck especially for formal outfits that might not be worn often. I know I don't want to spend a fortune on something that won't be worn at daycare or lounging around at home. Some of the two-piece outfits for girls are much more comfy, and some a more fancy so the selection is good no matter what you're looking for.
Also don't forget that TheBay.com is offering free express shipping on all orders over $99 at the moment. Normally they give standard shipping for free on a spend of that amount, so it is a nifty little bonus for sure.
(Expiry: 22nd December 2015 @ 11:59 PM ET)