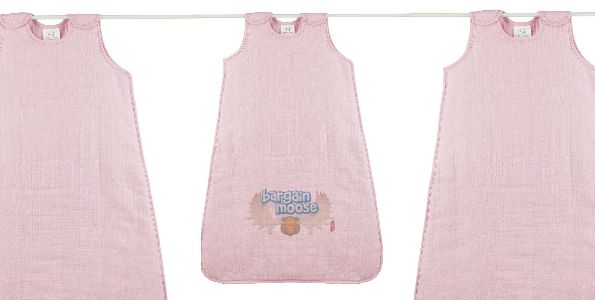 Aden + Anais is a coveted brand for babies, and now you can wrap that brand new baby in soft comfort. Right now over at Amazon.ca the Aden + Anais Cozy Plus sleeping bag in size small was $64.50 but has dropped to $23.80.
This deal is as rare as a unicorn. You very rarely see any products from Aden + Anais discounted at 63% off retail value. When I spotted this cozy sleeping bag for babies, I had to share. This sleeping bag is available in size small only at this amazing price. If you need a baby gift for someone who is having a girl, this pink sleeping bag is a beautiful gift.
Aden+ Anais makes some of the softest cotton muslin linens I have ever felt. The more you wash them, the softer these beautiful products are. This particular sleeping bag is from their Cozy Plus line and has a toggle rating of 2.5. For those of you without newborns, or those of you who just forget all the intricate newborn details that means this sleeping bag is designed for chilly winter nights or the middle of summer when the air conditioning is at full blast. This particular sleep sack is in a pink colour called "Rose by Dusk."
TheAden + Anais Canadawebsite carries this cozy plus sleeping bag in two neutral colour options only for $64.50.Best Buy Canada carries this sleep sack from the cozy plus line in a similar pink colour for $64.99. Well.ca has a cozy plus version in a light starburst pattern for $64.99.
Reviews are mixed a bit for this sleeping bag. It seems to be the snaps that most people are upset by, but there are also some parents who are happy with this product. Some particularly wiggly babies can wiggle their arms out of the holes between the snaps and sometimes even pop them open.  Some parents do not like the snaps. Other parents felt the snaps were a mild annoyance. This happened with my daughter a few times when we first brought her home, but was never an issue for me until she was several months old and purposely rolling in the crib. She certainly would not have fit in the small size sleep sack by the time we were at that point where she could have popped snaps open from wiggling.
Shipping is free if you spend $25. I would add these cute Vital Baby Bathtime Fun Crittersthat were $4.82, but are now $2.99. If you still have the Amazon Prime free trial, the sleeping bag will ship for free without a filler item.
If you need a super soft baby gift for a baby girl, this is an amazing option. These beautiful sleeping bags are luxurious for both baby and parents. This is a truly lovely gift for any new parent.
(Expiry: Unknown)