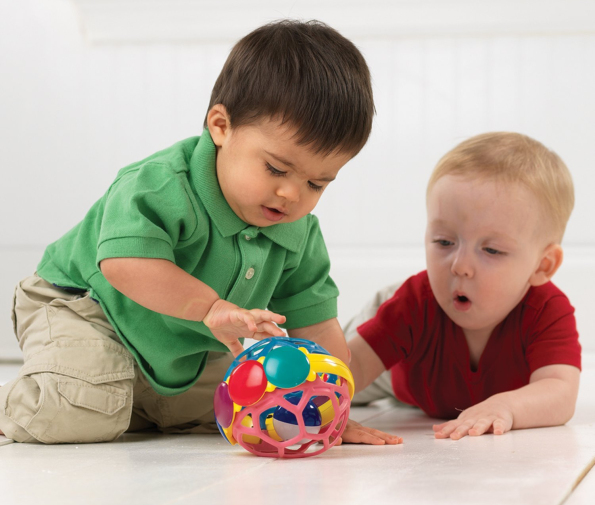 *Bump! This cute toy is back at an even lower price!!*
If anyone is on the lookout for gifts for a young baby, here's a deal for you to consider right now. There's a 71% reduction on this Baby Einstein Bendy Ball; it's down from $18.99 to only $5.58 from Amazon Canada!
The above baby toy is sold by Baby Einstein themselves, which is a third party marketplace seller. But they have even thrown in free shipping on this item, without having to worry about spending $25 or more. Usually just Amazon Prime members can enjoy this type of shipping situation, for anyone who is not on Prime (why not!?), then you'd have to pay extra for shipping. But in this case you free super saver shipping either way. 
This Baby Einstein Bendy Ball is a pretty basic baby toy; it's a bright and colourful toy made of soft, flexible plastic. While I'm not a big fan of plastic toys myself, I know that for some toddler toys, you just cannot escape the plastic ones! And Baby Einstein is a very well-known and trusted brand when it comes to this type of thing.
This exact toy is not sold at very many other online retailers in Canada, but I did see it for $11 at Bed, Bath & Beyond but then you'd have to factor in shipping on that as well (which is $5.99 anyway). There is an almost identical toy but it's a different brand - the Bright Starts Flexi Ballwhich is $7 on Walmart. I can't believe how similar it is to the Baby Einstein one - I was wondering is it a copy!? So, for a handy little stocking-stuffer type toy in the Baby Einstein family, the Amazon price is sound – especially with the free shipping aspect.
Normally items shipped and sold by Amazon.ca would need you to spend $25 to get free shipping, but since this item is shipped and sold by One and Only Store & Baby Einstein, you will get free shipping with this adorable little bendy ball toy.
(Expires: Unknown)