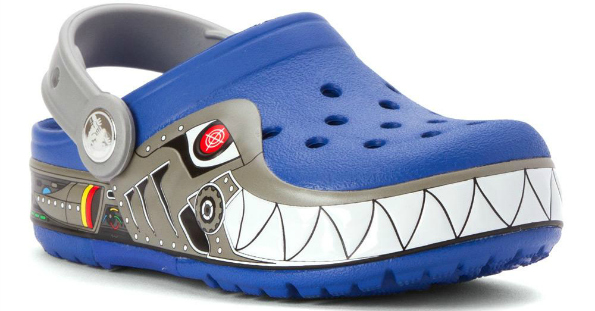 Crocs are great for little feet as they slip on easily and are insanely durable. You could almost do anything to Crocs shoes and they will live to walk another day. I am delighted by this sweet Crocs sale at Amazon Canada. These crocs Kids CrocsLights Robo Shark PS Clog are currently on sale from $44.99 down to $17.99 in all sizes.
Crocs appeal to kids with their super awesome designs. These Robo Shark Crocs have an awesome face down the side (inside and outside) of the clog that wraps around the front and the back. In the front, you can see the shark's teeth and on the back you see more of the mechanical robot bit. The eyes - which light up - come up a bit and can be partially seen from the top of the foot.
These shoes come in toddler sizes and in little kid sizes. Consult the size chart to figure out which size your child needs. Most sizes are still in stock, which is surprising given the discount is so high. I price compared with the Crocs Canada website where they retail for $49.99 right now. That is $5 more than amazon Canada's original price so these are actually 64% off Crocs' retail price.
While designed for 'boys', they are perfectly fine for girls who are into robots and sharks. I am the type of girl who would have loved to wear a pair of shoes like these. I like sharks well enough, but I really like big robots or 'mechs' as we used to call them: it is short for mechanical.

If these are not your style, then show the rest of the up to 60% off Crocs sale for kids. Prices and discount vary by style and by size. These Crocs Kids Electro II Clogs are on sale for 50% off. Originally $36.99, they are now only $18.50 in blue/green or pink/purple. There are plenty of sizes available including toddler. These are a great change from the 'basic' one colour Crocs. I price compared with Crocs Canada where they are currently on sale for $34.99.

There are several other styles to choose from, just check out the rest of the sale. Receive free shipping on orders of $25 or free shipping on anything with your Prime Membership.
(Expiry: unknown)